Posted on | September 30, 2014 | 2 Comments
So this is it – the final day of September and my final post for Scavenger Hunt month. And what do you know? The photo I showcased in my link image (this one right here)
is from the location I'm sharing today. Now that's timing!
On my holiday in Melbourne I went a-day-tripping with m'Lady; we walked down into Williamstown proper from the train, past the telephone exchange, and then bought ourselves some lunch and sat the park. It was a pretty park, with trails for running, cycling and dog-walking, and a view across the harbour to the Melbourne CBD. There were seagulls who wanted some of our fish and chips, and there was this:
(Actually, there were two of them – but this is the one closest to our seat.)
They've been around for quite some time, these cannons. They're nearly 150 years old, and have been in this spot for 40+ years.
They're also remarkably uncomfortable! Difficult to get onto, and challenging to pose on. But I guess they weren't exactly designed for that…
But this is me – of course I managed! And m'Lady took some great photos, too.
Eventually I had to get down and stretch back out. But I thought we could do with another view before departing, so I bent over.
And with a wee bit of luck – the bicyclists and pedestrians disappeared for a few minutes – we managed this flash:
What a thrill! That said, I am extremely glad these aren't in use, as I think they'd be more terrifying than thrilling then…
**
And that was that! I still have seven locations photographed and ready to go, so there'll be some more posted in a week or so.
Posted on | September 29, 2014 | No Comments
When m'Lady and I took our day-trip to Williamstown, on my last visit to Melbourne, we also ran across rather a few Scavenger Hunt locations – some of which we were able to successfully capture, and some which we put in the 'too-hard' basket.
But this one – what is this one?
Any ideas? Oh look – there's a car (with a fellow eating his lunch inside):
Around the corner, and we get the answer: it's a telephone exchange! Been looking for one of those for a while, too.
Quick now – while the lunch-eater isn't looking (although possibly people in the pub across the road are…):
Whee! Bruises and boobs come out to play

And what a blast that was! On to find our own lunch…
**
There'll be one more to finish off the month. Can you guess what it'll be?
Posted on | September 28, 2014 | 15 Comments
It's taken rather a few years, but I am finally posting my one hundredth Scavenger Hunt! Only one other person has done so many, and the amazing KaziGrrl is still rather a few ahead of me – which doesn't stop me scampering to catch up

For my hundredth, it's the final series of photos Hylas took of me out by Lake Pupuke (the first one being at the lake itself, and the second by a shipping container). How could we miss out the Rowing Club? It is a sports club, after all…
It had a very convenient seat just outside beneath the sign. A good place to watch the rowers from.
And to slyly flash from, too

But there's more! How can I resist a good recessed doorway?
Answer? I surely can't – and there weren't any complaints, either!
You know, I have no intention of rowing (although I did it quite a lot when I was part of Sea Venturers in my teens). But it is a lovely club indeed.
**
This is also my 17th post for Scavenger Hunt month – I have just a few more to show!
Posted on | September 26, 2014 | No Comments
When wandering around Lake Pupuke, Hylas and I discovered a 20ft shipping container – presumably used to store kayaks and the like, given there was a boat ramp right next to it. That was our guess anyhow. But what a convenient place for a Scavenger Hunt!
I thought that the side of the container would be better than the front – those dragonboaters were still going strong in the waterway across the other side of the car park.
But I did appreciate the view from where I was, looking out across the lake. Absolutely lovely

I think Hylas was enjoying this view instead

**
This is my 99th Scavenger Hunt location! One more for the Diamond award…
Posted on | September 25, 2014 | 2 Comments
Also known as an absolutely stunning lake here on Auckland's North Shore – and very well known to both locals and anyone who's read (or see the TV series or movie) 'Under the Mountain' by Maurice Gee.
Lake Pupuke has lovely bushland around part of it, and the famous Pumphouse Theatre – originally a pumphouse – on its shores. The afternoon Hylas and I visited there were dragonboaters practicing, and a fair number of people ambling around.
That didn't stop us finding a relatively secluded area (aside from the ducks) to take some photos!
I even took the opportunity to get completely topless – although the timing was tight, as someone came past just seconds after I had my clothes back in place

**
We actually managed two more locations in this area – those'll be the next ones I post!
Posted on | September 24, 2014 | 7 Comments
There are a lot of bills (aka advertising posters) plastered around Auckland, albeit for the most part in designated spaces. And one thing they do is brighten up the area – it's definitely not a boring white wall any more once these are up!
Directly around the corner from the phone booth was a whole mess of them, and when I spotted one (with my surname!) that showed a model in a certain pose, I knew I was going to have fun with this Scavenger Hunt

We don't really look anything alike, do we?
Not least because this wasn't the place to get completely naked. Although that would have been awesome!
I managed just a little bit of skin, though – and that grin is back in force. Is anyone surprised?
**
Thank you Hylas, for suggesting this location

Posted on | September 23, 2014 | 2 Comments
I couldn't tell you the last time I used a payphone – at least 15 years – but there's still plenty of them out there! What I wanted to get for this Scavenger Hunt location, though, was a phone box that didn't have a big sticker slapped across it advertising free-wifi in the area (that you could only use if you were with Telecom, now renamed Spark). Your basic phone booth, with three-side protection. That's what I wanted.
Hylas had been keeping an eye out for me, and spotted this one in Grey Lynn. On Sunday afternoon a few days later, we were returning from the Queer and Kinky Munch and decided it was the perfect time to grab this spot.
For all that it was a busy road, with a dairy behind me and a dairy across the road from me (dairy: corner store, servo, superette), we managed a grand shot:
Sure, it's only one boob – but anyone looking would have had quite the surprise!
**
We were just getting started with the locations we snapped that afternoon…
Posted on | September 22, 2014 | No Comments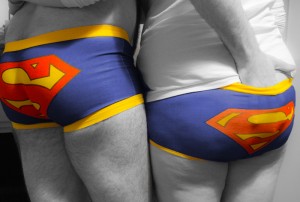 Photo courtesy of Bawdy Bloke
The only place where the smartest and hottest sex bloggers are featured under one roof every month. Whether you're looking for sex journalism, erotic writing, relationship advice or kinky discussions it'll be here at Elust. Want to be included in Elust #63? Start with the rules, come back October1st to submit something and subscribe to the RSS feed for updates!
This Month's Top Three Posts
'Dress me like a slut and punish my cock'
Featured Post (Molly's Picks)
I live in a sex-positive bubble.
Wicked Wednesday: Silent Memories
Readers Choice from Sexbytes
*You really should consider adding your popular posts here too*
Are you guilty of slut-shaming sex doll lovers?
Posted on | September 21, 2014 | 12 Comments
One of the great things about being at Kinky Camp is that no one cares (although they may well admire) if you're running about half dressed. Or, indeed, entirely naked! So I made the most of it – and Hylas, having marked up my boobs with the evil stick (and with assistance from some fellow campers) was happy to photograph me without most of my clothes. Yay!
Still, much like getting my kit off in the chiller, it felt very strange to be standing in the large industrial kitchen wearing nothing but some very sheer knickers. Surely this was against hygiene regulations or something?
I compromised with myself by not leaning on anything that wasn't easily wipeable. That would probably be acceptable…
No kitchen is complete without a comprehensive pantry. And we kinksters had filled it (much like the chiller) right up!
Ah, kinksters. Play hard, then eat comprehensively to recover the energy. Gotta love them all

**
That was a fantastic camp. Still got some (non-Scavenger Hunt) photos to share, too.
Posted on | September 20, 2014 | 4 Comments
When Apollo and I were in the Hokianga, we spent a lot of our time doing as little as possible (and fucking). But we did spend one day exploring the region – and in the afternoon we hunted down this track, which we'd seen on the map and then travelled quite a lot of metal road to get to:
I'm not a huge fan of long tramps, but the walk to the waterfall looked lovely (in the click-through? it's the extremely short, barely noticeable, dotted red line). It was a shit of a hike, up steep steps and slippery paths, to get there. Thankfully, the waterfall was totally worth it!
(In the click-through, you can see the only 'down' that we found.) Isn't it gorgeous? Some standing water, big rocks, and the glissando and burble of falling water.
So I gingerly stepped up and over some boulders, and angled myself so the waterfall could be seen. And Apollo took a whole bunch of photos of me having fun (click through for another view).
And then it was time to get my top off, and let the sun shine down on my boobs!
And I grinned like a fiend (as you can see in the click). It was fantastic!
We took photos of each other, played about, kissed thoroughly … and eventually I put my top back on, we walked the track (mostly down, thankfull!) back to the car, and we drove back to the house we were staying in.
You can probably guess what happened after that

**
That's the last of the photos from my Hokianga holiday. But I still have one more tale to share…
keep looking »