Posted on | May 22, 2013 | 11 Comments
It was one of the best types of predicament bondage I'd ever been put into, and both Dionysos and I had a blast in the process!
First there was the lovely cotton sash rope, tied beautifully to my hands and then down to the end of the bed. Next came the cuffs around my ankles, locked to a spreader bar which was extended to its maximum. Then the rope came back out and was tied to the D-rings of the cuffs (and thus my legs / the spreader bar) and roped to the headboard above my head. I was thoroughly exposed – or so I thought.
Because then the pegs came out …
Dionysos put one on each labia (a delicious torment at the best of times), and proceeded to tie them with string to the D-rings of the cuffs as well – with just too little string that I had to bend my legs.
(Click for a closer look at how exposed I am)
These were my choices: try to keep my legs bent, while the muscles burned. Or straighten them as much as I could and feel the string tug hard on the pegs on my labia. And while I tried one and then the other and dithered and cried out and fretted, of course Dionysos kept the tension on by tormenting me with extra sensations.
Eventually the need to straighten my legs became so necessary that I pulled those pegs right off – and it was so worth it! The blood rushing back into my labia tipped me right over into an astonishing orgasm, and it was glorious.
Predicament? Yes. Do it again? Hell yes!
**
While this was quite a few years now, I always keep string on two of my pegs

Posted on | May 20, 2013 | 2 Comments
These paragraphs are taken from my paper journal, written over the eight days Apollo and I were on honeymoon in May 2006. They seem to sum up our experience as a whole.
21 May
I'm sitting here with a glass of Chilean Gewürztraminer (given us by Robin, our celebrant), feeling the slight chafe of my ring as I write. There is no sound except my pen, Apollo's pen, and the occasional startling crackle from the fireplace.
It's Sunday, May 21 of the year 2006, and I've been a 'wife' for 31½ hours.
It may have been a civil union ceremony, and there may have been only four people attending, and I may bridle at being a 'bride'. But I'm happily the chosen life partner, a.k.a. 'wife' of Apollo. It's a lovely feeling.
Currently, we're in our chosen place of elopement, a small cottage just out of Kerikeri, in Northland. It's not so much secluded as isolated – no lock on the door, no driveway (a steep downhill 500m walk from the car, thankyouverymuch), and a warning about native wildlife paying us a visit if we don't close the front door. Which, in translation, equals ducks and fieldmice. Good think I like both!
22 May
It was totally worth saving that bottle of Dom Perignon for six years. Wow! We are probably doing it a great disservice by drinking it in wine glasses rather than champagne, and with fish curry and lemon broccoli. Still, Apollo and I photographed it for posterity, and are enjoying it immensely. It has a taste all of its own – to me, it's how marshmallows should be (but aren't), dissolving on your tongue and slipping down your throat.
1990 Cuvee Dom Perignon, I raise a glass in salute to you. And then I drink you.
We had our wedding 'breakfast' at Marsden Estate, taxied there by the lovely Katie. Absolutely special – especially as we got there at 7:45pm and the last guests were gone by eight (apparently there was a rugby game on). It was like we'd hired the place all to ourselves. The waiter Terry took excellent care of us – a complimentary shot of Gazpacho to begin, and stellar service. We ordered a bottle of 2004 Chambourcin, which was not only very nice, but also 18.5% alcohol!
For eating we indulged in the following. I had a roasted pear & goats cheese salad for entrée, followed by squid with cashew & coriander pesto and sticky rice. The four hour trip was worth it for the pesto alone, which was absolutely amazing! For dessert I indulged in a lovely lemon tart with crème fraiche and raspberry coulis.
Apollo ate a bean salad with proscuitto & parmesan dressing, then a delicious (apparently) venison main, done with kumara and onion jus. He had a chocolate tart to finish.
Between our mains and dessert, we went for a walk behind the restaurant. Beneath the vines on the verandah roof, we danced, and then ambled down the drizzly slope to the lake. Very romantic, but also dark and cold!
23 May
Seeing our wee cottage outside in the daylight was delightful – it really is very alone! A swallow visited us outside our bedroom window while we were still in bed, perching on the back of one of the deckchairs and darting its head inquisitively. It returned again this morning with a friend, but flew off when I went to open the window (as Apollo had already pointed out, we're not in a Disney movie. But I wanted to try).
From our vantage point halfway up the staggeringly steep hill to the car, there is the cottage, swallows, birds of prey, a large sluggish river, and rolling grass and marshland. Beautiful.
27 May
It's early Saturday morning, and we have our first – only? – day of gorgeous weather. From my spot at the dining table I can see out the open front door, to the azure skies and the determined bees. Bird song surrounds the cottage, and is finer than anything the stereo could hope for.
Tuesday we stayed in and recovered from Monday. A lovely lazy day spent reading, eating, sleeping etc. Gotta love that etc! Despite a whole quiet day, I had immense difficulty getting to sleep. About 1am I came out and bunked on one of the couches – lovely and warm as the fireplace was still giving out heat. Married four days and sleeping apart! Kinda amusing, except for the very tired part.
02 June
I never got around to writing up the last few days. We visited the Parrot Place, where I was mightily amused with the pretty birds (and lost some of the decoration on my shirt to a particularly determined one). The Kaleidoscope shop was full of amazing kaleidoscopes, and we bought one for ourselves. On Saturday our visit to Russell was fun (shops) and informative (Kororareka Museum), and dinner in Paihia was lovely. We spent four days out of the eight just sitting in the cottage, soaking up the warmth from the fireplace, and reading – between us we read over thirty books! It was an ideal mix of touristy goodness and quiet together time, and we loved it. The trip home came all too quickly. Another week of holiday would have been marvelous!
Now we're home again, jiggity-jig, and it seems like everything and nothing has changed. But we're both happy, and that's what counts.
Posted on | May 18, 2013 | No Comments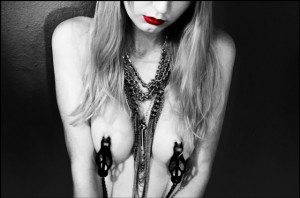 Photo courtesy of A Penny for Your Dirty Thoughts
Welcome to e[lust] - The only place where the smartest and hottest sex bloggers are featured under one roof every month. Whether you're looking for sex journalism, erotic writing, relationship advice or kinky discussions it'll be here at e[lust]. Want to be included in e[lust] #47? Start with the newly updated rules, come back June 1st to submit something and subscribe to the RSS feed for updates!
~ This Week's Top Three Posts ~
~ Featured Posts (Molly's Picks) ~
~ Readers Choice from Sexbytes ~
Dildology: The Science of Sex Toys

Continue reading "e[lust] #46" »
Posted on | May 14, 2013 | No Comments
My regular roundup of interesting reads, found from all over the place.
'My Daughter Is Not A Princess': An Essay From The 'Listen To Your Mother' Reading Series: "One evening, my daughter was talking about a girl at school and said, "She thinks she's Rapunzel or Cinderella or something." She said it like it was an indictment of the girl's character and I thought she might want a character with whom she could identify so I suggested that she might be more like a prince. She rolled her eyes and said, "Mom, I am not a prince. Obviously, I would be the king."" (Vikki Reich / Huffington Post)
A few things you shouldn't say to a childless woman: "But I still wanted to thump her. Hard. Not just for me, but for all childless women. I'm talking about sisters on IVF; the ones who can't carry to term; those who've suffered stillbirth or the loss of a child; the infertile; those with infertile partners; the ones hoping and waiting on a committed relationship; the ambivalent; the never intended to and don't feel the need to justify the fact." (Wendy Squires / The Age)
7 Things I Wish I Had Known Before My Partner Transitioned: "6) Many people, especially straight, cisgender folks, will think Leo is gay. I frequently get the "awww…does she know she is married to gay man?" look, and people stare at me, like they are trying to decide whether or not to tell me that the man I love is playing for the other team. Sometimes, it is because he is so nicely dressed and not itching to get out of his suit. Other times, it's us having arguments about color in the paint aisle of the hardware store. Maybe it's because we go grocery shopping together…but people seem to be inclined to think that Leo is a gay bear, and I'm his fruit fly. I have no problem with this — it's a whole new way of queering our relationship and its visibility, but I do think it is hilarious." (Shanna Katz)
Achievement Unlocked: "It's strange for me that one of the sexual high-points in my life doesn't come with any bragging rights. Looking up at her as she worked her cock into my mouth. Her grip tightening on my hair as she pressed on past my gag reflex and into my throat for the first time. The frantic feeling that I might puke if she held it there for even a second longer. Her holding it there for several more seconds…" (Peroxide)
mine: "But people who feel the way I do – that hearing the phrase, "This is my spouse/partner/euphemism/whatever" is a pleasant form of PDA – are not hearing, "THIS ONE BELONGS TO ME SHE IS MINE." We're hearing, "I have a strange feeling in regard to you, as if I had a string somewhere under my left ribs tightly knotted to a similar string in you, and if you were to leave I'm afraid that cord of communion would snap and I have a notion I would take to bleeding inwardly." Or anyway, those of us who have read Jane Eyre hear that." (Emily Nagoski)
Posted on | May 12, 2013 | 18 Comments
One of the best things about going on holiday is checking out the weird and wonderful bathroom facilities provided. Some places really go all out; others give you the quality you expect but it's nothing amazing; some are unfortunately terrible … and some you're really not quite sure what to make of.
Our shower at the cottage in Matakana was in the latter category. The water pressure was fine, the water was plenty hot and it didn't run out. You could lie on the bed and perve at your partner in the shower – that had its advantage too. And, as we discovered on our last morning there, there was definitely enough room for two to share the shower simultaneously, provided you were planning on getting very slippery together!
But the decoration? We were completely torn on the awesomeness / horrendousness of it. Twitter viewers came down on the side of awesome. What say you, readers?
(Apollo took the photos of me washing myself and my hair – the shampoo and conditioner that I purchased locally, after forgetting to pack my own, was pretty darn nice! Yes, there are click-throughs too.)
That's all tile. Every bit of it. There's rainbow and clouds and seagulls and the sun; fishies and shells on the floor tiles; and some land there by my shins as well. And so much blue.
Don't make me laugh when I'm washing my kneecaps, husband! This is serious business, you know. Or something like that, anyway

**
There are more awesome pics from this shower, but I'll save them for another day …
Posted on | May 8, 2013 | 15 Comments
So I'd been eyeing up this bus stop for a while – I thought it was the perfect place to get myself a Scavenger Hunt shot.  It was on a relatively quiet suburban street with a park behind it and a park across the road from it; it had a lovely image on the side of the bus stop itself (rather than a terrible advertisement); and best of all it was quite near to my counsellor. So I figured on a day when I had the time I could swing past and get myself some pictures.
Lo and behold, a few weeks ago this all came to pass. I was fifteen minutes early for my appointment so I shot around the block to the bus stop and pulled up. Trotting across the road with my camera, I then hit a snag: the metal poles holding up the bus stop were wide – too wide for my gorilla pod to hold on to! With some finger-crossing and swearing I managed to make it hold on, just barely, across from where I wanted to take the photographs, and set up for some test shots.
Ten shots flashed, with me stepping into frame for the last seven. Not bad – I had the height right, and the camera hadn't plummeted to the ground.
I set it to go again, and took photos sitting on the wooden seat as I lifted my top to bare my breasts. Again, they came out well – but I decided I wanted to get some standing.
So I took my final set, standing and posing and leaning, breasts swinging free in the afternoon air. Lifting the camera free from its precarious mounting, I noticed that there were people now moving about where none had been five minutes before. Eep! I scampered to my car and headed for my appointment.
Later, checking the photographs, I discovered that people had been closer than I had realised – one had come and sat directly behind me on the fence (you can see her if you click though). Whether she realised quite what I was doing is a question I have no answer for …
A few days further along as I was copying the pictures from the camera to my computer, I managed to inadvertently copy and paste just one image – the final one – instead of all thirty. And rather than checking as I normally do, I instead deleted the camera files. Argh – not the smartest thing to have done! I considered going back and taking photos all over again – but ultimately decided that no, I'd go with the one I had left. Because hey, I'd managed it solo without breaking my camera or being there when a bus came by. I figured I wasn't going to tempt fate by trying again. (Besides, I'm never early to my counselling appointments!)
So here you have one and only one photo of me, plus a close-up from the same shot. A little different from my usual, really.
**
I was still quite exhilarated when I got to counselling that day …
Posted on | May 7, 2013 | 6 Comments
In this regular feature, I showcase my most recent favourite pics for the month. If you like them, please visit the person in question and let them know – I certainly have!
To really appreciate the amazingness of Molly's image, you really need to click through and read the accompanying post …
Like all cats, Penny's kitty is somewhat voyeuristic. But who wouldn't be, given the opportunity to be in that room?
This is a monthly feature. Please look for the next photo favourites post in June!
Posted on | May 5, 2013 | 30 Comments
Of course I wanted to be suspended – I was delighted when Bear asked me if he and NiteWolf could take advantage of me wrap me in rope and hang me up high. Bear in particular wanted to disprove the oft-touted line he kept hearing that only the waif-thin could be hoisted in rope, and I was most happy to assist.
I'd only been suspended once before, very briefly – so I was looking forward to having an entire afternoon to muck about with the suspension rack, delicious hemp rope, and my fantastic riggers. And to figure out what kind of lifts we were going to do so as not to upset my lower back (something which had been discussed well in advance).
So with my lower back well supported, we started with a lift where I faced the ceiling. Getting that second foot off the ground was a challenge!
"Are you positive this will hold me, Bear?" (As if we hadn't both swung from the giant ring beforehand …)
Wey-hey! Lookit me! Also, I don't think my tits have ever quite been hauled into this position before!
You know, that was so fun I want to do another one …
We decided that time I was going to be facing the floor.
Again, getting my feet both off the ground was a challenge. This time there was ankle rope in addition to the thigh ropes, and luckily for me the lovely Kiana lent her back for some support while my ankles were tied up (and up, and up!).
This is freaking AWESOME! I can't really breathe, but I totally don't care.
I mean, check it out:
Try to disbelieve that, if you can! And you know what? We did a third suspension after that, too … but pics for that will have to wait for another day.
Thanks to the amazing Bear and NiteWolf for the rigging awesomeness; NiteWolf for the amazing suspension rig (and garage space); Hylas for taking the photographs; and Kiana for providing fanning, back support, and all the love.
**
This is for the Sinful Sunday movies competition – my movie is called Suspension of Disbelief. See the trailer or read a review if you're curious about it.
Posted on | May 3, 2013 | 4 Comments
My regular roundup of interesting reads, found from all over the place.
Kissing Freckles: "I raised my eyebrows, I was nearly covered in freckles.  I imagined endless hours of her mouth on my skin, which brought immediate concern on my part.  Would I be able to hold still for that long?" (Kyle Jones)
Polyamory: So What Is Couple Privilege, Anyway?: "Imagine that you've just made a new friend. You probably would not see the need to make a production of telling your new friend "You know, I already have existing friends, and I've known them longer than you, so I prioritize those friendships over yours." You probably wouldn't find a need to tell him "Just so you know, my kids' needs come before yours;" in fact, it'd probably seem a little weird if your new friend didn't get that. And unless you're in sixth grade, you would almost certainly be looked at oddly if you told your new friend "I already have a best friend, and there can be only one best friend, so I want to make sure you know that I can be friends with you but we will never be best friends." Yet often, this is exactly what couples who are new to poly will tell a new partner–occasionally in the same breath as talking about how they want an "equal" triad." (Franklin Veaux)
I Know Where I Stand (Sexual Identity): "My body is fascinating. My body is thick, round and proud. I have stretch marks. It does not make me a lesser person. It makes me more of a human being than I already am." (Jillian Boyd)
The average human vagina: "In 1991 a group of three researchers published a paper that described a method for casting a mold of the vagina using material more commonly used to make dental impressions. In short, liquid polymer goo is injected into a willing woman's vagina with a kind of caulk gun. She waits ten minutes. Then with the help of KY, squatting and pushing, and the string from a tampon that was inserted before the material dried, the mold is removed." (Jenny Morber / DoubleXScience)
A short and sketchy study in double standards: "This cuts in every direction. When women are reduced to objects with no desires, men are reduced to insatiable desire." (Quizzical Pussy)
How to … Lose the Body Judgement: "I was thinking a lot about the self hatred that so many women project on to others on these comment threads, either individually or fat women in general, and what really strikes me is that we're never actually taught how to NOT judge people. From the minute we are born, we are taught how to judge others. Our parents and family, the media, school, our friends… everywhere we look from our earliest connections with the outside world, we're conditioned to make judgements about people." (Kath / Fat Heffalump)
Posted on | May 1, 2013 | 10 Comments
Do you know you can get couples massages? I didn't, until I was looking for a really nice way to spend my anniversary with Hylas late last year (yes, I'm only getting around to putting the pictures up now).
It's an amazing experience! We went to a place called Sensual Relax, on K' Road. Our tables were right next to each other – close enough to hold hands if we wanted to; we had a masseuse each; and my masseuse, Sandy, was happy to photograph me for the blog:
I've been massaged before (although not sensually), so I had a fair idea of what to expect, but Hylas was rather nervous. Like many spa/massage places, we went and showered first. Sandy took these pics while Hylas was having his shower.
Then we lay naked on our fronts on the massage tables, and warm oil was drizzled on our backs and rubbed on. Our masseuses wore nothing but tiny g-strings, and they massaged us using their hands and arms and boobs, and then, as they moved around and knelt on the table, their entire bodies as well. It was utterly blissful. To begin with Sandy and I talked quite a lot – the other masseuse was newer, and so was following Sandy's lead, and was nervous and quieter (she was also very small compared to Hylas' tallness, which made things interesting!).
We all got quieter and blissed as we went. Back, arms, legs, thighs, arse. Then roll over! More delicious oil (jojoba and grapeseed) was applied, all over my breasts and belly and arms. And thighs. And mons. And – glory be – labia. I was totally blissing out – this is how massages should be! My clitoris, outer labia and inner labia were all given a gentle, sensuous massage - and while I was not given a 'happy' ending (Sandy is not bi, and we discussed this beforehand), she and Jenny gave Hylas and I some sweet slippery alone time at the end. Which was very happy for both of us!
(There's a click-through on this one – and yes, Hylas took these two pics.)
I enjoyed it so much I intend to go back solo (women are welcome). And I do definitely recommend the experience!
Sandy gave permission for her name to be included here – isn't she lovely?
keep looking »