Posted on | September 2, 2014 | No Comments
My semi-regular roundup of interesting reads, found from all over the place.
"Coming Out" in the Classroom: When the Personal is Pedagogical:  "While I had the freedom to reorganize some lectures to explore topics in gender and sexuality, my own sexual identity has had little overlap with what I teach, at least so far. But looking ahead, I wanted to know how others navigate this potentially challenging terrain." (Justin Bengry / Notches)
The Porn Flâneur: What Baudelaire and LubeTube Have in Common: "In talking about our pornographic wanderings, I've noticed a stark divide in the sexual vocabularies of modern adults. The fault line is, in part, generational: Those born after a certain date are consistently fluent in a vast lexicon of colorfully named sex acts that rarely occur in the wild: felching, sounding, skull­fucking, snowballing, the Rusty Trombone, the Donkey Punch, the Dirty Sanchez, the Puppies in the Tub." (Maureen O'Connor / NY Mag)
I Tried Cosmo's Lesbian Sex Tips and They Were Terrible: "Cosmo equates this position with pole dancing, a form of entertainment that, as we all know, is a staple of lesbian erotic life much like the aforementioned Fifty Shades of Grey. One thing's for sure: Cosmo did its research on lesbian culture before naming these positions." (Samantha Allen / The Daily Beast)
The allure of the closet: is kink only sexy when it is underground?: "Burdened by the world-shaking risks of outing, kinksters also bear the daily vicissitudes of closeted life. Imagine you've found a suspicious mole on your skin. A kinkster who has some bruises from a recent play session might have to choose between raising suspicions that she is abused or self-harming, or waiting for the bruising to fade. Or, imagine you've got an anxiety problem. A kinkster seeking counselling on the NHS will have to choose between keeping their sex life private, or disclosing – and hoping that they've not been assigned one of the many therapists who sees kink as a pathology." (Margaret Corvid / New Statesman)
From friends to lovers: "Some folks prefer to keep their relationships and their friendships separate. That's not for me; I can't speak for anyone else, of course, but I want my lovers to be my friends, and I've had many relationships that have transitioned from friend to lover, and some that have transitioned from friend to lover and back to friend…and some of these have been among the most rewarding relationships of my life." (Franklin Veaux / More Than Two)
Sign (one of a few) available from GenderNeutral.co.nz
Posted on | September 1, 2014 | No Comments
I've got rather a lot of Scavenger Hunt photos that I've not yet posted. And, seeing as it's the start of another month, I thought I'd make September an official Scavenger Hunt month – with 30 days and 22 locations, I think I'll get through them all! (If you've got a bunch, why not join in?)
I've also decided to post mine chronologically (ie: in the order they were taken). First is the office – which I captured nearly two years ago, just before I finished my last office job. Because, yeah, I know there's people there who sporadically read here, and thought I'd give it some time before posting!
I've taken a few photos (or had them taken) in this office space before, but they were all prior to Scavenger Hunting getting going. So it was time for something specific:
You may have guessed that I'd planned for this, wearing my rather-see-through top that shift…
Oh look – I have a vibrator in my bag! (Actually, I always have it in my bag. It's useful.) And yes, I did have Buck Angel as my wallpaper.
Hooray! Boobs!
I was alone in the office, but given it was above a shop and anyone could come up at any time … yeah. It was a rush doing this

And I took a whole lot of absolutely terrible photos in the process. Guess you'll see some in the next derp-face post!
**
Posted on | August 31, 2014 | 19 Comments
I've been captured on canvas (or paper) a few times now – and been delighted with the result every time.
I had the pleasure of being drawn by the very talented Norton Elissen – he's painted me in watercolour before, but this time it's charcoal. It's based on the image beneath the art (and you can see more like it in the post about my Hokianga holiday). Charcoal has captured me perfectly – and you can colour me very pleased indeed!
Curvaceous Dee captured in charcoal by Norton Elissen.
Original photograph by Apollo.
You can follow Norton on twitter to see regular sketches, and his blog for occasional updates.
**
*happy sigh*
Posted on | August 27, 2014 | 8 Comments
Although I am very definitely not a gardener, I am nonetheless quite attracted to flowers. I've been attempting to photograph them off and on for years, and every now and then I take a picture I am very pleased with. One of these has been my phone wallpaper since I took it – which one do you think it might be?
This very happy bumblebee was enjoying himself in the vineyard garden where we celebrated Demeter's 40th birthday, on Waiheke Island. Shortly after capturing this image, I got my kit off amongst the vines … as you do!
Every year the plum trees on our property explode into bloom. This pretty branch helped me to smile every time I went to the car for a good few weeks, as it was right next to the carport. I can't wait to see what it'll be like next time

When I'm in on campus for a workshop or seminar, I always take the opportunity to step out for some fresh air on my breaks. This beautiful iris, in the garden bed which backed onto my classroom, gave me the calm I so very much needed on the day I saw it.
I never know what I'm going to see when I'm out and about! This bright yellow flower surprised me one day when I was taking a friend to the doctor's office – it was blooming in a narrow garden between the carpark and our destination.
When I was on holiday in Melbourne recently, m'Lady and I visited Carlton Gardens and wandering around enjoying the sunshine. While there were as many trees as flowering plants, this bed near the Royal Exhibition Centre entrance caught my eye. Despite the brightness of the day, I managed to get one decent shot!
Just a little while ago new neighbours moved into Hylas' apartment building. One of their possessions is an enormous pot with a giant succulent (and a frog ornament) which they've placed outside their front entrance – and coincidentally next to Hylas' as well! When I walked past it yesterday I spotted it flowering – so today when he and I went out to get some lunch, I made sure to photograph it on our way back home. Unsurprisingly, seeing it made me smile.
**
So, no pictures of me this week – but plenty of memories and pretties.

Posted on | August 19, 2014 | No Comments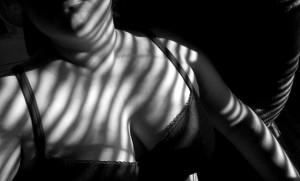 Photo courtesy of Maria opens up
The only place where the smartest and hottest sex bloggers are featured under one roof every month. Whether you're looking for sex journalism, erotic writing, relationship advice or kinky discussions it'll be here at Elust. Want to be included in Elust #62? Start with the rules, come back September1st to submit something and subscribe to the RSS feed for updates!
~ This Month's Top Three Posts ~
Bloggers, please
I Touch Myself
Stunt Porn / People Porn
~ Featured Post (Molly's Picks) ~
Is sex unsexy? A 'His & Hers' post
Van Gogh, an erotic author and a selfie…
 ~ Readers Choice from Sexbytes ~
Posted on | August 17, 2014 | 22 Comments
…I'd look much like this: absolutely morgeous!
I'd also probably bite even more often than I do now … (click through to see my 'focused on brains' look.)
Getting all zombified is what happens when my one and only niece decides on a horror theme for her 16th birthday – Apollo and I decided to go cheap on our outfits (second -hand shirts which were ripped and/or covered in blood), and splash out on professional makeup instead! I'm nominally a zombie from 'Night of the Living Dead', while Apollo went with 'Day of the Dead' instead.
Alas, I was horribly slashed by a human trying to evade me:
From my point of view, it just kept bleeding! (Click through to see.)
In the half you're not seeing of this photo, I'm eyeing up Apollo. If I were a zombie, I'd want to eat more than just his brains

Handily (as per the click-through) we were distracted with cake. Bloody, bloody cake. Yum!
We both were extremely impressed with the makeup job. Check out Sandi Cutt's facebook page and website!
**
We successfully wowed a bunch of teens. And primarily our niece, which was the point.

Braaaaaains.
Posted on | August 15, 2014 | 2 Comments
I love having sex – I think we all know that by now! And I'm a bit of an exhibitionist, too. Add those together, and outdoor sex is one of those things I really enjoy, even if I don't do it often. One of those things about outdoor sex, though, is that the potential for amazingness – and disaster – is often increased…
Let's get the (hilarious in retrospect) disasters out of the way first, shall we? It turns out golf courses use sprinklers – and they turn on about dusk, drenching the hapless couple getting it on nearby. Who knew? Then there's bamboo. The otherwise excellently concealed piece of parkland where I chose to fling my virginity away – yes, really – had small shoots growing. Right where the small of my back was. Didn't matter how I repositioned myself, it always ended up just there. It was a toss-up what was less fun, that day. And then there was the day-trip to Picton where rampant horniness got the better of us, and so we put a towel down in the bush by the ferry terminal and went for it. Apparently other people had the same idea, and managed to – literally – stumble across us. Oops!
But some outdoor sex is pretty much perfect. A lake (so long as the swans are over there, as opposed to sticking their beaks in places they shouldn't be), a light breeze, lunch, partner, and me. The worst thing I could say about that day was a minor case of sunburn – which is a good reminder that shade is an important thing to take into consideration, as is sunblock in pale places!
On my recent trip to Melbourne to see my beloved, there was a lot of sex going on both indoors and out – we had difficulty keeping our hands off each other, and that suited us just fine! So when we took a car trip through the Yarra Valley into rural areas of Victoria, there was a strong desire to find somewhere to fuck. This was not as easy to find as we thought it would be – every intriguing-looking side road turned out to have houses on it, or farmland being farmed, or, in one case, a horse that looked on curiously as we said "Whatever" and stopped for a passionate make-out session that was not sex but very close.
Eventually though, the right spot found us – a nominally main highway known as the C507 but that was only gravel, with amazing forest surrounding us and no cars passing at all. The view was glorious, the sun was shining, and the world was ours. So naturally we pulled the car off to the side, stripped gloriously bare, took lots of photographs, and then threw ourselves into delightful, delectable, natural, and fucking awesome sex.
No, we didn't get sunburnt. Yes, we did eventually end up fucking in the car (it was more comfortable after all), but with half the doors open. No, not a single person drove past or stumbled across us or was horrified. It was hot and sweaty and messy and perfect.
And it was certainly not the only time we got it on outdoors while I was over there … but even I don't share every little detail. Some things you'll have to imagine for yourself!
Originally written for express magazine online in November 2012.
Posted on | August 13, 2014 | 9 Comments
I spent a long time looking for the right street sign to be photographed with for the Scavenger Hunt, and I thought I had it: just one suburb away from our house is a road liberally sprinkled with signs stating "Share with Care" (referring to bicycles and cars sharing together). Which didn't put me in mind of vehicular road sharing! Still, with the road being so busy, I was having difficulty figuring out how to get the shot.
And then Hylas and I went tiki touring one day, and found a new subdivision going in. It was full of great location opportunities, so we took photos for three separate scavenger hunts when we were there, including the street sign – because how could I pass up one that says this? It was even better than the local signs – even if there was an occupied house just behind it, and more than a few nosy pedestrians around!
(Click through for a rear view!)
But! Before I could get around to posting these awesome photos, Apollo and I went away to the Hokianga for a break. And I started seeing another sign – a rural one – which I really wanted to be photographed with. And those signs tormented me: I kept spotting them on roads where there was nowhere to pull over; or signs that'd been munted. But! As we were wending our way back to Auckland, we finally spotted one on a long straight, and I was able to stop the car.
And the ever lovely Apollo photographed me! Even with traffic coming past, and farmers about 100 metres away (in the direction I'm facing) faffing with a truck, he photographed me – and not just posing, but also flashing!
 (Click through for awesome udders!)
Once we were home again, I couldn't decide which ones to use! Sharing, or cows? Cows, or sharing? Eventually, I realised that there's no one saying I can't use both. So I have

**
I'm a cow who loves to be shared. So there!
Posted on | August 12, 2014 | No Comments
My semi-regular roundup of interesting reads, found from all over the place.
Content Notes: cancer; animal sex (with animals).
Coming Out as Daily Practice: "For me, coming out is not only a continual set of decisions I make based on input from my immediate circumstance, it is the collage of various identity labels that feel inadequate to describe me, some of which have put me at serious physical or emotional risk. Unfortunately, given the number of subcultural groups I'm affiliated with, when I come out I often appear to others as a cluster of "issues" instead of a whole person." (Vanessa Carlisle / Modern Poly)
The Myth of Porn's Perfect Bodies: "The decency critics want to have it both ways—they demonize porn for featuring unrealistically beautiful young actresses, and then they cringe when porn features more normal-looking middle-aged actors and actresses." (Dr. Marty Klein)
Just Like Unicorns: "That was the beginning of a process of thoughtful consideration which has brought me firmly to one conclusion: virginity doesn't exist. It doesn't exist in any kind of objective scientific sense, anyway. It's pure social construction. " (Emma Hart / Public Address)
"What a Woman Is": Breast Cancer, Sexuality and the Unreconstructed Self: "Breasts were not only representative of femaleness because of their associations with reproduction; they were highly sexualised body parts. This posed a significant challenge to nineteenth-century doctors who were tied up with ideas about modesty and female purity. During surgery the healthy breast was to remain concealed." (Agnes Arnold-Forster / Notches)
Falsehoods Programmers Believe About Names: "I have lived in Japan for several years, programming in a professional capacity, and I have broken many systems by the simple expedient of being introduced into them.  (Most people call me Patrick McKenzie, but I'll acknowledge as correct any of six different "full" names, any many systems I deal with will accept precisely none of them.) Similarly, I've worked with Big Freaking Enterprises which, by dint of doing business globally, have theoretically designed their systems to allow all names to work in them.  I have never seen a computer system which handles names properly and doubt one exists, anywhere. " (Patrick McKenzie)
Do animals have sex for pleasure?: "Sex, we are told, is pleasurable. Yet you probably wouldn't think that if you waded through the scientific literature. That's because most scientific accounts of sexual behaviour rest upon evolutionary explanations rather than the more immediately relevant mental and emotional experiences." (Jason G. Goldman / BBC)
Posted on | August 10, 2014 | 23 Comments
For the first two weeks of June I was in Melbourne, spending quality – mostly naked – time with m'Lady (aka Tethys). But we weren't indoors for the entire time: we decided a few days in that we'd have an adventure trip out to the suburb of Williamstown, a place I'd never been to before. Williamstown was Melbourne's first port, and looked out across to the CBD. I couldn't wait to see it!
This had the bonus of taking trains (and not just trains, as we took a tram into the CBD as well). Hylas is mad for trains – we've had quite a few train adventures together – and this was a good excuse to take photographs for him that I could share when I got back to New Zealand, as well as pictures for me.
Southern Cross Station (above) blew me away. It's HUGE. So much bigger than any train station I've been in before, with multiple floors, lots of shopping, and, naturally, a whole lot of trains. This pic only shows a small part of it, as it's all I could fit in the viewfinder.
m'Lady and I have taken the train before – a few visits back we took the Belgrave line to the end, to check out Puffing Billy. For all that I don't love most public transport, I really enjoy being on it with partners. Being able to sit and natter together, enjoy the view, and make up stories about the other passengers … it's a whole lot of fun.
Not to mention checking out the various passengers that are checking out my cleavage!
One of the things about taking the train with m'Lady, though, is my fantasies. I have a lot of fantasies about the train (and the tram, and occasionally the ferry and the bus) with m'Lady – usually involving me getting my cunt stuffed, mouth filled, and other passengers joining in. Which might be why I couldn't help but do this when I saw the opportunity:
Yes, yes I will grope cock as long as you let me get away with it! Handily (heh), m'Lady was appreciative of my need to touch.
Once we arrived at Williamstown? Well, that's another story – one that involves walking, fish and chips, and quite a few scavenger hunts!
**
I must remember to wear a skirt and no underwear next time I take the train …

keep looking »