Posted on | December 1, 2013 | 15 Comments
If you've never heard 'White Wine in the Sun' by Tim Minchin, then you're missing out – and the video is at the end of this post if you want to hear it. For me it's one of the few (too damned few, in my opinion) songs that really capture what it is to celebrate at Christmas-time in the Southern Hemisphere.
Not for us, the snow, the cold, the bundled-upness and heavy food. Instead, being in the middle of summer: we have warm weather, chilled drinks, swimming togs. There are outdoor celebrations in the backyard, at a park or at the beach and there's plenty of sunblock (and a parasol, usually).
There are click-throughs, with enthusiastically participating felines, on all images.
And white wine, in the summer time, is a lovely thing indeed. I am a particular fan of Gewürtztraminer – this bottle is Mission Estate, Hawke's Bay 2012. My mum introduced me to wine when I was in my early teens – that's one of her wine glasses I'm holding there, of which only two remain – and Gewürz was then and remains now my favourite, although I've grown to appreciate dry whites considerably more than I did then.
Why am I licking my fingers? Because I spilled my wine… silly me! However did that happen?
This image just cracked me up so I had to share it. Pussy admiring pussy! (The shot I was actually going for is in the click-through.)
It's fairly safe to say that I'm not quite this clothing -optional with the extended family around. However when it comes to my family of choice – and that certainly includes the felines? Then white wine, skin, and late-afternoon sun suits me very well indeed.
**
With many thanks to Enyo for taking photos – and drinking wine – with me. Thank you, sweetheart

Posted on | November 24, 2013 | 16 Comments
Two years ago today, m'Lady placed a collar around my neck. This meant something very special to us both, but we didn't make a big deal out of it – there was no celebration, no ceremony, no party (there was a lot of fucking, though!). Instead, beforehand we'd talked extensively about whether a D/s dynamic, specifically ownership, was something we both wanted. Before my visit to see eir I'd also arranged to have the collar custom-made by my friend Kiana, and we'd discussed the type of leather to be used, the shape and style, size and width of it.
Collars, prior to my relationship with m'Lady, didn't mean a lot to me. I put them on occasionally for play, and that was it. Indeed, this collar was originally made for that purpose – for me and for m'Lady specifically, but not as a symbol of anything other than a collar that's nice to wear! But, as I wrote in my post shortly afterwards:
 …I've never taken collars very seriously before. I've owned a few different ones, and they were always for play space – put them on, take them off. Use them and then discard them. I knew that for many other D/s people collars were a sign of deep commitment. But for me that had never been the case. Until this point.

Because this collar was made specifically for us – just for me to wear, and to wear for m'Lady … The idea, originally, was to make something that Tethys could put on me when we played. However as the days went on in Melbourne I wore it more and more. [Ey] told me when to put it on, and when to take it off, and eventually, I was only taking it off to shower and sleep – and sometimes not even then(one night I fell asleep with it on, and slept right though. It was very comfortable).
I have a much better understanding of collars and D/s commitment, now. When I am in m'Lady's presence it's on my neck – that's what feels right. That means when we're together in person it's on except for when I am asleep or on the shower (I do like to wear it sleeping, but as it has a cow-bell attached to it now it's not very practical). When we have our voice/video chats online I'm also wearing it – I keep it hooked over my PC monitor so it's near to hand. And, sometimes, when I'm doing a particular task for m'Lady I will either ask for permission to wear it, or be ordered to wear it during – both make me very happy.
But when it came to putting it on me, formally, there wasn't a ceremony. Instead I updated my FetLife profile – and enjoyed knowing I was owned and loved by a wonderful person. Two years has just increased that certainty!
**
Happy anniversary, my most adored owner!
Posted on | November 23, 2013 | 8 Comments
Where did I go?
It's been weeks since I've updated. Given that there's usually anything between one and four posts a week from me, to go over three weeks without any at all is extremely unusual. The last break I had of any length was actually the end of 2006, when I dropped off the radar for three months – and I wasn't planning to do that again!
That time, there was no particular reason. This time there was. So, what happened? It started when I went into hospital, in extreme pain - we ran through a bunch of possible diagnoses, ruling out the appendix, kidney and gall stones, and the sacroiliac joint. Every time a new possibility came up, the surgical team, in combination with x-rays and an abdominal MRI, figured out that wasn't it. And eventually, after three days, they send me home with wicked strong painkillers and orders for bed rest.
They weren't kidding. Bed rest was pretty much all I've been able to do – walking is extremely uncomfortable, and sitting upright has been a stone bastard. So I slept and read, and read and read and read and read some more, and caught up on my RSS feeds and a bunch of youtube videos. And hated not knowing what was wrong with me.
I had a doctor's appointment this week – the doctor I see twice a year about my chronic migraines, actually – and when I walked in she immediately noticed I was limping. Three quarters of a hour later, having run through the hospital's ruling out of diagnoses, what I'd noticed over the following few weeks (intermittent nausea when sitting fully upright; how I ache – like a coal that radiates more when I do stuff; where I ache – right hip and buttock, etc.) and running through some pressing, palpating etc. she gave me what she thought was a very likely diagnosis (Piriformis Syndrome)! I read some more over the next few days, but it completely fits – and once again I am really pleased at how widely she reads, studies, and keeps her mind, because it seems to be one of those things that a lot of medical professionals don't think of.
Having a diagnosis really makes a difference to me. The stretches are starting to help too – I'm still on the wicked strong painkillers (down to one-two a day) but I am sitting up as a type this – although I don't expect I'll get this post done in one go!
Work/Study
Just before all this happened I had made the decision to leave express, and handed in my resignation. You may or may not have noticed that the top bar of my site no longer links to my express writings, but instead to all my published work. What does this mean, practically? Well, I am no longer writing fortnightly columns for them, nor am I sub-editing. As it is, the timing worked out pretty well because with all the pain and hospitalisation? I wouldn't have been doing much work!
I'll probably repost some of my columns here, from time to time.
My study is a bit more worrying to me right now. I've just finished my first year of my counselling diploma (it's three years part-time) and in terms of marks I'm doing extremely well – however I had to ask for an extension on my previous unit, after my persistent respiratory illness slowed me down. On the bright side, that's finally gone – but I've had to ask for another extension (open-ended this time) for my current unit, as I'm not studying at all. I was originally due just on a week ago, but of course that's completely blown out of the water! I have a hospital letter, but yesterday was the first day I'd even thought about studying … and thinking about it was as far as I got.
I don't like the idea of having to ask for help at the best of times, and not being able to hand things in on time really grinds at me. So I feel like I'm letting myself down, even though I know that practically, sensibly, I'm doing the right thing. I just dislike the helplessness of it all.
Ailuros
May as well finish off the crappy news before moving onto the awesome stuff… I broke it off with Ailuros. It was not something I particularly wanted to do – and I really didn't like the way I ended up doing it. However we've barely seen each other all year, and for the most part it's only been when he's wanted help with something (moving house, for example) or for dinner. The last time we were intimate in any way was when we made cake, last December.
We had a chat conversation the weekend before the hospital incident, where I found out he was going to the States for a holiday (he's there now, I think). And I asked him if he was still even interested in being whatever we are – he's always been against giving it a label – given it's been so long, and his communication with me mostly hasn't been at all, unless I've initiated it – that chat conversation was a rare exception. We arranged to meet up the following weekend, which I kept free, and he stated he would be in touch that week to confirm times.
He didn't get in touch. And he didn't know it, but that was the last chance I was giving him.  So. I ended up in hospital – and he continued to not get in touch, and we didn't catch up, and he had no idea that I was in there. And there was no message at any point to apologise for not catching up – not that I expected there to be.
So when I was finally able to sit at the PC, a few days ago, I wrote him an email. And broke things off. Because really, I deserve better. I deserve communication, and some respect, and apologies when I'm forgotten (and not to be forgotten in the first place!). I'm worth the time. I loved spending time with him, and I loved him. But that's his loss.
Probably the saddest thing of all is I don't expect an answer to the email.
Kinkly Top 100
Better news! I was chosen as a Sex Blogging Superhero by Kinkly for the inaugural 2013 year – which is very awesome indeed. I was #37 on the list, there both some excellent names there, and some I'm unfamiliar with (I've got some reading to do).
The contest came about like this, and I really want to thank those who nominated me – somehow I missed it entirely, or I would have done some nominating of my own.
Volunteering with OUTLine
With gritted teeth and uber-determination, I levered myself out of bed and attended two weekends of volunteer training at OUTLine – I am going to be on the phone support line! I wrote an article recently about the volunteer training they do, and it decided me that it was something I also wanted to do myself – no undiagnosed whatever was going to make me miss it.
I was very pleased I went, even as I took my painkillers and sat in a pool-side chair while everyone else was more upright. There were 12 of us plus the two trainers, and we learned so much, bonded over things, discussed a lot. Each of us discovered things we didn't know we didn't know (if that makes sense).
And on the first day of the second weekend we went on a venue crawl – I certainly crawled slower than the rest – visiting places that people calling (Aucklanders, at least, as it's a national phone line) may find useful to know about. We visited two sex on site venues, one with a sauna – Centurian – and one without – Lateshift, Body Positive, Rainbow Youth, Garnet Station, and the New Zealand AIDS Foundation. Learned a heap about the history of SOS venues, too! It was fascinating stuff.
I also got a pic at Lateshift – this is the pump room. My envy for those who can visit cruise clubs continues unabated.
Click through for a better look at the room.
At the end of it all, I got a funky certificate – and I am booked in to buddy on the phones a few times before Giftmas. This makes me a happy volunteer.
Collaring Anniversary
This Sunday – tomorrow – will be two years since m'Lady placed my collar on me. Thank you, my dear owner – for two years of happiness, service, and pleasure in being your property! I love you so very, very much, and cannot wait to be in your arms again.
Posted on | October 27, 2013 | 17 Comments
It was a dark and drizzly night, and just was I was putting on my shoes to go to my evening class Kiana rang to let me know that she had spotted an Erotica Expo billboard up on the Albany Highway. Which was absolutely perfect – it wasn't an unreasonable distance away, and given that I was heading out anyway, I could check it out on my way back home.
So it was that about 9pm on Monday evening in August I drove up the road in question, looking for the big Erotica logo. Where was that billboard? In the chilly dampness of the night, lights sparkling off the wet road, I was hopeful it remained in place.
And yes – there it was! I pulled over into a bus stop, waited for a break in the sporadic traffic, and turned my car so I was on the same side of the road.
Now for the challenging bit – getting a picture, solo. Because there wasn't a damned thing I could hang my gorilla pod off – and I couldn't rest the camera on the car. Nope. I was going to have to hold the camera and do this all by hand, with luck and guesswork!
I clambered up onto the trailer and angled myself the best I could, having given the road a good looking over to decide which direction had the best lighting and the least traffic. I did not want to cause an accident.
Timing was tricky – it involved making sure there was nothing coming from behind me, nothing coming up ahead of me, holding the camera steading, flipping my top up, and snapping the shot! And then it turned out that getting both breasts and face into the shot was somewhat problematic. Although I was having fun…
Eventually, I hit upon the winning formula: shooting up. With udders appearing larger than my head, a massive grin on my face, and very cold nipples, I headed home for a cup of tea – and to tell Apollo what I'd been up to!
**
Solo Scavenger Hunts: always challenging; always marvellously fun to do!
Posted on | October 21, 2013 | No Comments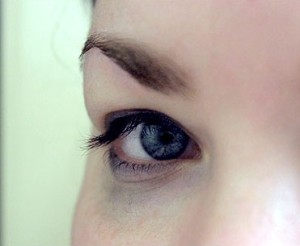 Photo courtesy of Property of Potter
Welcome to e[lust] - The only place where the smartest and hottest sex bloggers are featured under one roof every month. Whether you're looking for sex journalism, erotic writing, relationship advice or kinky discussions it'll be here at e[lust]. Want to be included in e[lust] #52? Start with the newly updated rules, come back November 1st to submit something and subscribe to the RSS feed for updates!
This Month's Top Three Posts
7 (Random!) Suggestions for Dominant Types!
Featured Post (Molly's Picks)
Readers Choice from Sexbytes

Sex toy manuals: puppies, kittens and a whole lot of nonsensical fluff
Continue reading "e[lust] #51" »
Posted on | October 16, 2013 | 10 Comments
Groaning under the thorough attention of
the maid slut, attentive to their needs:
getting deep into the crevices with
long lascivious strokes then
back-and-forth motions
making them so wet
sloshing even
so slippery
so clean
ahhh.
**
The prompt for this week's Wicked Wednesday was 'write from the point of view of a freshly scrubbed floor' – I went from the point of view of one being scrubbed instead (and loving it!).
Posted on | October 15, 2013 | No Comments
My regular roundup of interesting reads, found from all over the place.
The New Sex Rules: "Any rule that suggests there's a right way to fantasize or enjoy sex, any rule that sets up a standard of how to display or enjoy our body—no matter what the rule says—is oppressive. Sex is one of the few arenas in life where people can create their own (consensual) reality, do what they want—and no one need get hurt, no one need to answer for themselves." (Dr. Marty Klein)
Seven (Random) Suggestions for Dominant Types!: "Yeah yeah, I know each and every one of you D-Types are special snowflake lone Alpha-wolves, running along the dark paths of kink , howling at the moon, sniffling the tender flesh of nubile submissives, and doin' your own thang. Respect. Mad props to ya. But keep in mind? With power comes responsibility. You can call the shots all you want. But without humility, discipline and flexibility, it's not likely you'll be the boss of anyone for very long." (Mollena Williams)
Fap for Freedom: "So masturbation in the 18th Century became widely-publicized and politicized as a way to seize control. Then, as now, masturbation was all tied up in who had power. Today, we also have religious fundamentalists, governments, and secularists fighting over how we masturbate. Instead of hairy palms, we're told by people in power that we have messed-up brains. Instead of looking at our genitals, employers and organizations scrutinize our browser histories. Instead of selling us a medical cure, we're sold deadened, empty internet service. All this is to say that if we're talking about masturbation more, it's because we know—perhaps subconsciously—that it's linked to other freedoms. And so do our governments." (Conner Habib / Vice)
Are We Fabulous Yet?: "… I remain concerned about what I see as a disturbing trend among radical queers and trans people. These communities boast about being the most body-affirming, yet, ironically, are heavily invested in their own hierarchies of beauty. It's not enough to be body-positive, one must be fabulous to the core." (Yasmin Nair / In These Times)
How I came to love group sex: "From my experience, there's generally less emotional intensity and instead a focus on just having some lascivious feels and fun. Maybe it's because things aren't personal, but people feel calmer — it's not about getting to the passionate pinnacle of orgasm. Rather, the intent is simply goofing and playing around with many sets of naughty body parts. And one huge perk: You can leave whenever you want. Done? Respectfully slip out. Your remaining partners will either continue or let things come to a natural end. And communicating what you want in this often-goofy, sometimes bizarre situation is easy, since things usually don't get intense to the point where speech disappears." (Vi Nguyen / The Daily Californian)
Posted on | October 13, 2013 | 25 Comments
Hylas and I both have our own PO boxes, and have had for a number of years. So we watched with great interest as our local post office went under a recent rebuild, including moving the boxes into a completely new space over the course of a weekend. Our new boxes, it turns out, not only lined a long hallway but also filled up two lovely alcoves, set back from the main area.
"Perfect for photos!" we said to each other. Because we notice things like that.
So on a recent Saturday (the same day as our roundabout success) we finished up our photographic afternoon at the post office. After clearing my mail – my box is in the hall – I headed for the second alcove, which is right at the back of the space. Through the wall we could hear contractors working on the wiring in the post office proper – it sounded like they were having a busy afternoon! Hylas stood in the main hallway so he was far enough back to get a good shot, and incidentally so he could also see all the way up to the street – and as someone was in that hallway only a few feet out of sight opening their mail he encouraged me do my thing.
So, with a tad more trepidation than usual – but trusting in Hylas – I did so.
That poor guy clearing his mail had no idea what why we were taking photos there – but he also has no idea what he missed out on!
**
Today Hylas and I celebrate 4 years together – happy anniversary, sweet pet

Posted on | October 12, 2013 | 8 Comments
Here's how it is with my feet: I hate having them tickled. I really don't like having needles stuck in them – whether it's for acupuncture or for kink. Like many people, I find that having them rubbed is blissful. And I happen to think that having them beaten, smacked, flogged and cropped – especially if it's heavy, thuddy and hard – is about the best damned thing ever.
I bloody love it. I love it so much that I'll even go with stingy, scratchy, whippy and bitey sensations (less awesome on my feet than on other places) because it all feels so totally amazing to me!
Bastinado is one of my favourite kinky things and I've had many partners (and a few friends) do it over the years. Some have done so with the aim of making it hurt. Some – like Hylas – do so with the aim of making me happy. But, frankly, even when it hurts it makes me happy. I think that this is because of the way sensations from the soles of my feet emanate up through the rest of my body: it makes me tense up and then release, and given how tightly I tend to hold myself, it's a good way for my masochist self to actually let go.
My feet have been smacked with a great variety of implements. There's been crops and floggers of course, but the best have been the pervertables: rulers and meat tenderisers, a tyre thumper and rolling pins, old police bayonets and rubber mallets. Finding the right balance between light enough to be swung in the hand but heavy enough to thump into the foot is an ongoing journey – one that keeps me visiting antique stores and kitchen shops alike.
Kiana and Hylas are the most likely to beat my feet these days. In the photo above it's Kiana having a go at my right foot with an evil stick (whippy stingy bastard thing!) while Hylas took a photo. And despite it not being the type of pain I generally like? Yeah, I loved it.
How do I like I feet to be beaten? It really depends on the day (and who's doing the beating – I don't always get a say). My heels are always a good place to start, and can take a lot of heavy hits. My arches need to be treated with more care, particularly in the shallow, but on the outside edge of the arch – which is a good spot for biting – I can take as much as the heel. The ball of my foot, which along with my heel takes my weight all day, relishes solid strikes, but it's a place where a narrower implement is useful (something too wide can take out the toes as well). The toes themselves I find a great place to beat, but they need to be done comparatively gently. I prefer that only the back of the toe is hit, never the top – that can drive it down into the foot and hurt in a bad way. As for the top of my feet, I find that beating can be done there but only with extreme care – there are many bones in the feet and they're a lot more vulnerable from the topside. I generally leave the top of my feet for massage instead.
If you see me at a kink party there's a fair chance you'll see me getting my feet beaten. Grinning my arse off, floating, and very happy indeed.
A Few Posts I've Written That Include Bastinado
**
My newest foot beater is an antique walnut-wood gavel from England – which is light in the hand but delivers one hell of a smack!
Posted on | October 10, 2013 | No Comments
In this regular feature, I showcase my most recent favourite pics for the month. If you like them, please visit the person in question and let them know – I certainly have!
Amie's puppy makes me smile so much to look at! Is it the tilt to his head; his jutting puppy cock; his lovely harness? Perhaps it's all of it combined!
Miss A has been leaving scott breathless – I'm not surprised at all!
This is a monthly feature. Please look for the next photo favourites post in November!
keep looking »