Posted on | January 12, 2014 | 16 Comments
"Which one is better?" I called out to Delilah, having already flung my bag and cardigan to the ground. "This one here, or that one over there? And do we get the mosaic in the shot?"
The two of us were at Western Park in Ponsonby on a brisk August evening. Hours earlier we'd parked at very nearly the same spot, walked all the way up Karangahape Road and shopped at all the sex toy shops, visited a sex cinema and a cruise club, had some dinner and taken some fantastic Scavenger Hunt photos (one of which is yet to come). Now, pretty much knackered, these lamps simply begged to be used. What was one more stop before we dropped?
"The lamp on the left, I think." Delilah decided. "No, my left! I can't get the mosaic but I can get the Sky Tower behind you." That worked for me, and I posed prettily, waiting for random pedestrians to wander past, and wondering how we'd time it with the Ponsonby Road traffic driving by. We were relatively near an intersection – quite near where the bleachers had been for watching the Pride parade actually – so perhaps when the lights were right?
I watched the traffic while Delilah kept her hand on the button. "Nearly … nearly … now!" I lifted my top and flashed while the camera did the same.
"Got it!" she crowed. We grinned and hugged, then peered at the camera display. "It looks good, I think. There's tits, anyway."
Really, what else do you want? Yeah, it's blurry, as I discovered later, but we were pretty blurry too at that point – and we were having a blast. And doesn't the Sky Tower truly look terrific!
**
Come visit again soon, lovely Delilah

Posted on | January 10, 2014 | 4 Comments
I'm in love with someone who doesn't fit the so-called gender binary. I'm in love with someone who has breasts and a penis, wears their hair long and occasionally sports a goatee, who prefers to be in skirts but pairs them with stompy boots. Are they simply a woman? No. Are they simply a man? No. Am I attracted to them? Absolutely.
Gender is not a binary – even though media and social perceptions reinforce it every day.
It's very easy to not question gender. Everywhere you look you see the same two choices: male and female. Birthday cards are for boys and girls, surveys ask if you're M or F, public bathrooms very nearly always only give you only two choices, and it's assumed that you're attracted either to men or to women (or that if you're attracted to both, that you're bisexual. Pansexual as a concept? Fuhgeddaboudit).
Why do we insist on the either-or? There's a whole galaxy of genders, with feminine and masculine being just two choices out of many.
Let's backtrack a bit. You're born with certain characteristics that are regarded as sexual. These are certain physical and physiological patterns which are influenced by genetics (including chromosomes) and hormones in a variety of ways. However, Western society chooses to define 'sex' based simply on one's genitalia or one's X/Y chromosome combination. Even so, this still doesn't create a binary, because there are male, female, and intersex (intersex makes up approximately 1% of all births).
Now gender is not the same as sex. The experiences of many SGD people is that for them gender, their personal sense of gender, and the perceptions that other people have of their gender illustrate that the whole thing is much more complicated that it's often been assumed to be.
My gender identity is pretty simple. I was born with female sex characteristics, and I regard my gender as cis-female. While I don't wear make-up, rarely wear heels, and never hide the hair in my armpits, I comfortably consider myself a woman. While I spend a lot of time fighting the media perception of what it is to be feminine, female fits my sense of self.
My beloved's gender identity is more complex. Ey ascribes to the gender non-binary, being strongly drawn to both male and female characteristics in emself. But how ey and eir partners views em does not mean that the general public gets it. Often they feel the need to take obvious characteristics (like that goatee) and use it to determine the gender of the person they're looking at. You have a beard? You must be male.
Way to be challenging, society. Who says you get to determine someone else's gender – or their gender identity – for them? What gives you the right?
One way of combating this insistence on the binary is to use gender-neutral pronouns (ey, em, eir are the preference for my beloved) rather than him/her, he/she. And its not the easiest thing, getting the hang of them. While I regularly get it wrong and have to correct myself, I am trying. And after 30+ years of only having 'he' and 'she' to deal with, adding a 'ey' into the mix can take some work. It's totally worth it, though.
In a galaxy of genders there are many, many options. I know my choice. I know eirs. Do you know yours?
Originally written for express magazine online in May 2011, after considerable discussion with and assistance from m'Lady Tethys. The article above is a slightly revised version for 2014.
Posted on | January 5, 2014 | 33 Comments
What was I showing off? My udders and my arse – they were definitely on display at the party Hylas and I attended last month, celebrating the life and times of the Marquis de Sade.
Naturally, we needed to get some photos we took before heading in! (A little black dress slipped on nicely for the drive, and then slipped off again immediately after we arrived). My pet's balcony once again provided the perfect backdrop for displaying my pretties.
*click*
What you see here, aside from me, is my lovely underbust corset (also seen in this post), and my delicious French knickers (also seen in this post). They go together rather well!
*click*
It was a rare and strange party … for once I didn't get naked! What I did do, though, was perform depraved acts of torture of Hylas' cock while he had his head in a box. Which was a whole lot of fun indeed, and I totally intend to do again…
I also received some lovely compliments on my outfit, although not as many as my pet did! Understandably too – everyone was rather enamoured of his amazing Wild Gasmasks jackal hood, full purple catsuit and mitts, and rubber Doc Martens. There were many polite requests to touch him, and to feel his ears as well, for some reason

The lovely Amie Wee was the official photographer at the party, and she got this great shot of the two of us together (with bonus knicker slip). Thanks, Amie!
**
Kali's Teeth have quite a bite. This pleases me.
ETA: Selected as top pic in the Sinful Sunday Weekly Roundup.
Posted on | January 3, 2014 | 2 Comments
My regular roundup of interesting reads, found from all over the place.
(Normally there's one of these every 7-14 days. Unfortunately, due to hospitalisation, bedrest and a whole lotta health challenges, it's been a long while since my last Intriguing Reading post. What does that mean? It means there's a lot of great stuff worth checking out! Back to regular posting after this.)
The Label is Not the Package. The Map is Not the Road: "The trick is to remember that the label is not the person. Even if the person self-applies that label." (Ferrett Steinmetz)
Step one…: "The funny thing about Internet threaded conversations is this: it's very unlikely that anything new will be introduced by the time there are thirty replies. Maybe, but keep it in mind as a guideline. It's okay to stop following any thread that makes your asshole pucker — even if you started it yourself. No one of any moral substance will bitch about you not responding." (Edward Martin III)
The Sexcalator: "One of the many, many unspoken assumptions out there about sex is that it's an escalating process." (Cliff Pervocracy)
Before and After: Thoughts on Makeup and Self-Image: "On the subway to the shoot, I felt embarrassed by my lack of styling. On the way home that night, I felt embarrassed by all the makeup migrating to my under-eye region. You just can't win, right?" (Gretchen Hirsch)
A Naked Prophet: "Sitting on a park bench next to his best friend on a very hot day, Andrew thought about the total inanity of having to wear clothing in such weather. He realized that, in spite of the obviousness of this truth, he was prohibited with the full force of an entire nation, and of virtually every person he could conceive of from taking the next seemingly logical step." (Woody / Thoughts from a Queer Nudist)
Polyamorous Relationships Are About More Than Just Couples: "The unfortunate result of this is that, for those of us in more than one serious and meaningful relationship, the world around us insists on viewing one of those relationships as less valid than the other, especially when one relationship happens to predate others." (Angi Becker Stevens / Huffington Post)
Baring my Bikini Body: "What has been important and revelatory to me is the fact that I've actually had a bikini body all along, because I had a body and I could put a bikini on it. I spent so many years hating my body, and thinking that my life would change when I was thin instead of actually going ahead and doing what I wanted to do." (Ally Garrett / The Wireless)
In defence of bad sex: "…many of the passages of "bad sex" selected for public mockery are, in fact, rather well-written descriptions of sex that happens to be fumbly and awkward. In real life, that's what a lot of sex tends to be, especially at major plot points." (Laurie Penny / New Statesman)
How I Found Out I Didn't Have the Herpes I'd Been Living With for Four Years: "Right now, a visual diagnosis—no tests, just a "you have herpes"—is the standard route for practitioners to diagnose a herpes outbreak. The CDC endorses "visual inspection" as a valid form of diagnosis on their website. Somewhere between 60-85 percent of the time, clinicians make a correct visual diagnosis, Dr. Leone said, but that leaves a pretty big possibility that it's something else. Patients and their doctors can confuse irritated genital symptoms like herpes, yeast infections, and allergic reactions to vaginal hygiene products, Dr. Handsfield said." (An HSV-Negative Lady / The Hairpin)
A Call for Cisgender Action: "Change in everyday institutions, such as your school, office, home, church, and non-profit organizations won't happen overnight. However, you can speed up that process by showing peers, colleagues, and bosses that gender inclusive environments are important to everyone." (Loraine Kanervisto / Medium)
Saturday Morning Breakfast Cereal
Posted on | January 1, 2014 | 13 Comments
I've been blogging as Curvaceous Dee for eight years today – the time has simply flown by, and been a whole lot of fun in the process! But what do you do to celebrate eight years? When I started pondering this a few months back I asked positively everybody – friends, lovers, munch acquaintances – for their thoughts. Coming up with an idea was far harder than I expected (good thing I started early).
Eventually, between m'Lady Tethys and Hylas together, an idea was born: the octopus. Specifically, tentacles (mmm). After all, octopi have eight of them, and you can do some very fun things with them… All it took was a suggestion from one, a link to a delightfully large soft toy from the other, and I simply had to do this. Already owning a glass tentacle dildo of my very own? Sold the deal.
So it is (with thanks to Hylas for both purchasing the octopus and taking lots of glorious photographs) that I present to you the eighth blogaversary of Curvaceous Dee, with hedonism a-plenty. I hope you enjoy as much as I did!
There are click-throughs on all images – don't miss out!
This is the gorgeous Giant Golden Octopus, from Fiesta Toy Sea and Shore. Isn't he stunning and lovely and yummy as anything?
Oh, I do like those tentacles… I know what I want to do with this one, too! (In the click-through, you can see just how much curiosity he has, as well!)
Oh yes – that feels so very good! The nubbles and suckers; the curl deep inside …
Such a lovely creature you are, filling me up so well in the way I like. And cuddling me too!
Oh yes – that was so damned good! I think I'll just close my eyes for … a … second ………
**
This is my eighth blogaversary. Want to see how I celebrated in previous years?
Seven Wonderful Sins - seven days of debauched celebrations, one for each sin
Now We Are Six – featuring melted wax and my arse cheeks
Fabulous Five -  with candy and sugar and chocolate and naked flesh
Four Times Around The Curves – nothing like some needles!
Three Years of Curvaceousness – playing it safe
Two Years of Curvacity – having fun with liquid latex
Birthday Cake – marking some territory online me
**
And a Happy New Year to everyone as well!
Posted on | December 22, 2013 | 19 Comments
I turn thirty-six today – and I've had an incredibly awesome day! However the fun really got started a few days early, as on Friday night Enyo and I attended the awesome queer kinky party, Rough House (held at Basement) – and had lots of scratchy switchy sexy fun together, perved at lots of other folks having fun, and had some great conversations with friends and strangers alike. It was crowded and noisy and Satan Claus was in attendance with his big stick (and making good lubed up use of it, by the sounds of it), and it was a blast.
We arrived about 10pm and, given I'd been at the venue before and Enyo had not, I decided to give her the tour. It was – depending on how you look at it – a failure (at being a tour), or a success (at getting very sexed up). As a tour it took about an hour and a half – and the place isn't that big! We kept getting distracted: we spent some considerable time getting it on in one of the private rooms – well, we think it was private; we were teased afterwards about there being peep holes.
After we emerged, we actually finished looking over the place, and eventually made our way back to the front of house to catch the end of Kiana's caning session. We also got some air, some drinks, and some recovery. Then the lovely Bear, rope-wrangler extraordinaire, asked if I was up for getting tied up. Hell yes I was! Due to slow hip recovery – and working my lower half about as maximally as I could manage it earlier – I could only handle rope on my torso, but Bear is eminently flexible, and so out came the rope (my boobs were already out). It was jute, which I hadn't had the pleasure of being wrapped in before – that was lovely – and so was getting manhandled and tied up tight and having my chest shoved further and further out in front of Enyo, Kiana, and quite a few other interested watchers. Oh noes!
And  thenhe remembered the fire stuff. We'd been talking off and on for months about setting my feet on fire. What better time? So, with my udders still well tied and turning awesome colours we headed out to the front steps – it was about 1am at this point (who knows what the people in the overlooking apartment buildings thought. However I suspect they're used to shenanigans out the front of Basement).
This I was really excited about! My evening was brilliant just being able to attend with Enyo. Experimenting and getting sexy with her meant it was amazing. Add in rope and I was floating. Adding fire as well? I was about ready to pee

I was a bit intimated – this was new territory. But Bear was a good friend and there was a lot of trust there. So we did it.
And it was awesome! And hot. It turned out my right foot was more sensitive (it's my right hip that's healing up) – I could take more on my left. But it was so much fun. Endorphin city!
As an added bonus, Enyo got video too – so check out me having a blast, laughing my head off, while Bear pretty much drums on my foot with flame.
What a way to lead in to my birthday, huh?
**
It's been a great few days – much love and hugs to everyone who's wished me well today!
Posted on | December 20, 2013 | No Comments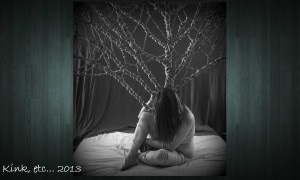 Photo courtesy of Kinketc
Welcome to e[lust] - The only place where the smartest and hottest sex bloggers are featured under one roof every month. Whether you're looking for sex journalism, erotic writing, relationship advice or kinky discussions it'll be here at e[lust]. Want to be included in e[lust] #54? Start with the newly updated rules, come back January 1st to submit something and subscribe to the RSS feed for updates!
~ This Month's Top Three Posts ~
Do Not Consent
Found poem – UR so SXY
Kink is not a dirty word!
~ Featured Post (Molly's Picks) ~
Being not doing; a thought about labels.
Take It For Daddy
~ Readers Choice from Sexbytes ~
*You really should consider adding your popular posts here too*
Posted on | December 18, 2013 | 6 Comments
When I write a tweet like this:
(and there are more than a few tweets like that) it's because one of my very favourite sexual events has occurred. My partner has asked where I'd like their final emissions to end up, and – as I do more often than not – I've chosen my breasts as the target. Why? Because after they've done so, I really enjoy the process of slowly and deliberately rubbing every single droplet into my skin.
Of course, the deluge is utterly delightful as well (if leading to the occasional missed target), but what really, always works for me is the rubbing in afterwards – either by myself or by them. Fingers capturing errant strands of come. Swirling it about and then onto a suddenly heightened nipple. Feeling the sticky-slick palm catching across the underside of each udder as each is thoroughly covered.
And then, in the hour or two afterwards, the sensual bonus of appreciation: a subtle scent wafting from my upper torso which is their smell and my own mingling. The softness of my flesh as it dries. The very slight tackiness where it wasn't rubbed in quite well enough.
At the last, showering, I run the soap across and over each slippery breast, and remember, and smile.
**
The only downside of those sticky fingers? I don't have a single photograph of myself in this state! Something to be rectified, eventually…
Posted on | December 11, 2013 | 11 Comments
Once there was a young red heifer, wandering across the fields. She had lost her herd: there was no farm she called home, nor any farmer's whistle she recognised as familiar.
The cow was unaware that the sensation she felt deep below her stomachs, day after day, was loneliness – she had been weaned long since, and so all she had to do each day was amble and munch upon pasture grass (and wildflowers, when she came across them) for the long slow turning of the earth.
One day, which had begun much like every other, she wandered up a hillside and found a big square whitish block, unlike anything she'd seen before. It smelled intriguing, and running her tongue across it, she found it tasted bitter – and yet somehow utterly delicious. She took to licking, long and slow, lapping up the salt. Focused intently on her task, she was thus taken by surprise at a gentle hand on her shoulder.
It was a human. And not just any human: it was a farmer.
*
Two years later, it was a completely different world for the red heifer. Replete, full with milk, she had a farm and a home – a farmer and an owner. Turning her head, she listened to the bell around her neck and felt the tag in her ear move: both tangible signs that she belonged.
She looked about her barn, feeling the warmth of sunshine across her flanks. There were still grassy paddocks (and delicious salt-licks) for her, in abundance. But now, thanks to her owner, she also had a warm indoor spot all her own, and there was frequently sweet feed for her in here, along with both regular grooming and milking by hand.
She was cow number 1, the milky red heifer, at Lambda Farm. And she was home.
**
Written with much love, for m'Lady and owner Tethys. These particular photographs were taken with em in mind.
Photographed by Kiana (the same time as the pictures for Bordello and In the Shed).
Posted on | December 1, 2013 | 19 Comments
If you've never heard 'White Wine in the Sun' by Tim Minchin, then you're missing out – and the video is at the end of this post if you want to hear it. For me it's one of the few (too damned few, in my opinion) songs that really capture what it is to celebrate at Christmas-time in the Southern Hemisphere.
Not for us, the snow, the cold, the bundled-upness and heavy food. Instead, being in the middle of summer: we have warm weather, chilled drinks, swimming togs. There are outdoor celebrations in the backyard, at a park or at the beach and there's plenty of sunblock (and a parasol, usually).
There are click-throughs, with enthusiastically participating felines, on all images.
And white wine, in the summer time, is a lovely thing indeed. I am a particular fan of Gewürtztraminer – this bottle is Mission Estate, Hawke's Bay 2012. My mum introduced me to wine when I was in my early teens – that's one of her wine glasses I'm holding there, of which only two remain – and Gewürz was then and remains now my favourite, although I've grown to appreciate dry whites considerably more than I did then.
Why am I licking my fingers? Because I spilled my wine… silly me! However did that happen?
This image just cracked me up so I had to share it. Pussy admiring pussy! (The shot I was actually going for is in the click-through.)
It's fairly safe to say that I'm not quite this clothing -optional with the extended family around. However when it comes to my family of choice – and that certainly includes the felines? Then white wine, skin, and late-afternoon sun suits me very well indeed.
**
With many thanks to Enyo for taking photos – and drinking wine – with me. Thank you, sweetheart

« go back
—
keep looking »