Posted on | December 24, 2014 | 7 Comments
I was having a sexy sweaty awesomely fucking good time with Hyperbius last Saturday.
(Hyperbius? Who's that? Well, he's relatively new in my life, and once we got through the months of casual flirting, serious flirting, expressions of interest, making out, testing, then waiting for results, we finally got to the naked-and-able-to-do-everything-we-want stage. About two weeks ago. It's been glorious since!)
So. Last Saturday night we were having a very good time. And among the many very good things we did that night, I spent some considerable time sucking his cock (such a lovely cock). I am rather partial to having my mouth full.
And there was … something. This was new, and that's why I want to write about it. For me sucking cock is often worshipful (most frequently with m'Lady and Apollo, but also with others). It's also intensely satisfying for me. I blame this on thumb-sucking when I was a kid. I just like having something there, you know? Fingers, cock, clit (food, flesh) … it's all wonderful and pleasurable.
So there I was, lying comfortably nestled up against him, my head resting on his belly, my right ear pressed into warm flesh. My mouth was positioned just right for me to use my tongue, my lips, and occasionally my throat to pleasure his cock.
Now being still relatively new to each other, we're still figuring out what the other likes, appreciates, and gets off on. Hyperbius had his left hand running up and down my back, and occasionally touching the back of my head – all very nice. But I like a hand on my head, so I flailed reached for it and moved it onto my head, pressing it down.
Here's where it gets interesting. The palm of his hand covered my left ear as he pressed down – so suddenly neither of my ears were exposed to the air. And that, along with the general feeling of my head being held in place, meant that my headspace immediately switched. I was a mouth. I was a mouth and a tongue and lips and there was a cock in my mouth and I was being used by the cock and all I wanted to do was be there, be used, be mouthfucked. I was nothing but mouth.
I was nothing but mouth being used.
It was just a few minutes, but it was amazing.
The rest of the night was completely brilliant, but that's what's really stayed with me. That feeling, those moments. My headspace. It wasn't really sub-space, as I wasn't in that place – but it's as close as I can get to describing it. Or like rope-space a bit. Perhaps this was slut-space – that pure sensation of being used, getting pleasure from being used, giving pleasure by being used.
Whatever it was, it was memorable. And I loved it.
More please!
**
Merry Giftmas to y'all! Hope the end finishes with a bang for everyone

Posted on | December 23, 2014 | 2 Comments
My irregular roundup of interesting reads, found from all over the place.
50 Shades of Non-Consent: Editing BDSM Erotica as a Queer Top: "At this point the guidelines for our "good imprints" have been whittled down until there is only one acceptable BDSM heroine. She cannot have any past history of D/s relationships, have ever engaged in casual play, or, heaven forbid, have ever been a Domme herself. In short, she is never a woman interested in BDSM. Additionally, she is an insecure girl who is willing to accept abuse if someone spit-shines it and calls it love. She is never someone I can see as a consenting submissive." (Jennifer Hanks / Autostraddle)
On Enmity and Empathy: "To influence people's opinions, you have to understand why they hold them. In this example, that means accepting that homophobes are not (generally) inherently bad people – most of them are just scared. They're scared of being alienated if they go against their crowd; they've been taught that non-procreative sex is a sin and can't get past that; they fear that being gay would relegate their child to a life of bullying and beatings; their only experience of gay people is big, noisy rallies which they found terrifying to walk past; and so on. It's only by understanding their fears that we can hope to alleviate them and potentially change their minds." (Sarah Rooftops)
The orgasm police: Why female ejaculation is one of the last porn taboos: "There is another explanation — one with more of a cultural angle — for why female ejaculation so rankles censors. As Kristina Lloyd brilliantly wrote in response to Spans' case, "The BBFC's ban colludes with the cultural default of viewing female sexuality as intangible and precious, as if the 'enigma of woman' was something beyond the reach of science."" (Tracy Clark-Flory / Salon)
" Why Are You Poly People Always Yammering on About Polyamory?": "Sometimes we get sick of rehashing our issues, too.  But the truth is that we talk about polyamory means to us because we have to.  We need to figure out what it means to us, because there's no largely accepted definition that we can start with and then pare away details or add them to." (Ferrett Steinmetz)
VD on the Radio: "Barnouw's strategy, in other words, was to bury the lead. "He seduced his audience, got them to identify with a character," says Nancy Guli, before revealing the subject. When Lena finally sees the doctor, she's horrified to have to tell Joe the truth, but the doctor scares her with the dangers if she has infected him: insanity, blindness, paralysis." (Andrew Parsons / Studio 360)
Kitty Stryker's Illustrated Guide to Dick Pics: "Why are dick pics in the dark ages of selfies? One of the guys I spoke to said sadly, "well, vulvas and boobs have a lot of examples to learn from… there just isn't a similar acceptance or love for dicks", and I thought… wow, yeah, that's pretty true." (Kitty Stryker)
June Palmer (I think) – from my vintage collection
Posted on | December 21, 2014 | 18 Comments
While I love to be naked, if I've put clothes on then knickers are generally a part of the package. It's pretty rare for me to be without them, be it beneath jeans, a skirt, or a dress (sarongs are an exception – fuck it!). So it was a tad strange to me to be out with m'Lady for a visit to Kinglake National Park, fully clad in skirt, singlet, socks, sneakers, sunblock and parasol… but without anything between my legs except, well, me.
Still, there were benefits! Like being able to flash whilst walking along the track:
I may have been looking for koalas in the trees – but I'm pretty sure m'Lady was appreciating the view right in front of em

**
There was an amazing waterfall at the end of that track. More photos to come!
Posted on | December 17, 2014 | 7 Comments
I love my oxters. What are those, you may ask? My armpits. My lovely, hairy armpits. (I also love the word oxter!) While, like many teen girls of my generation, I immediately began shaving my pits when I hit puberty, for the last 1/2 dozen years I've left them au naturel, much like my pubic hair (and like the hair around my nipples, too). I absolutely love them that way.
My oxter hair is incredibly soft. It's fairly long – certainly long enough that I often tug on it, groom it, feel it. While I still use deodorant, I appreciate my natural aroma much more, and it combines with my deodorant of choice to make a scent which pleases me.
In warmer weather, if I'm clothed at all, I live in singlets and sunfrocks. Doing so means that my oxter hair is on show rather a lot. Much like my belly rolls and my large thighs I don't hide this part of me – it's who I am. But it's not always accepted or appreciated – societally a female-appearing person is 'supposed' to have shaved armpit hair (and I most definitely don't). That can lead to unkind comments, which is a shame. This is my body and it's up to me how I choose for it to appear.
This afternoon – after starting this post – I caught up with a relatively new friend, and was delighted to spot that she too has furry oxters. It led to a cool conversation about body hair, choice, and how much we both love our fuzz.
Every single one of these photos below has appeared been in my blog before. Did you even notice? There's my oxter hair – and I love it.
In the Larnoch castle gardens.
In the backyard during a thunderstorm. See it peeking out?
On the deck in the Hokianga.
Hanging out by the skate park.
Oh, and want to know a bit more about how armpit hair works, and why we have it? This is a pretty interesting video

**
What about your oxters?

Posted on | December 14, 2014 | 20 Comments
For those who guessed last week that I was between 'a rock and a hard place', you were absolutely right – on Squeaky Beach are some enormous rocks, and I was between two of them! In retrospect, this would have made a much better scavenger hunt than the one I got for 'rocks (large)', but you never know when you get something that a better location may come along. Certainly we weren't expecting to find this awesome spot!
Oh – and if you want to hear why this is called Squeaky Beach? Here's some audio m'Lady recorded as we walked along, barefoot:
It's really rather squeaky, isn't it?
I had a great time getting completely naked and being photographed as I squeezed into this spot. But how close were those rocks, really? A click-through on the image will show you just how much room I had (or rather, didn't) to move around in.
Thanks for the awesome Tethys, aka m'Lady, for photographing me!
**
*squeak squeak squeak*
Posted on | December 7, 2014 | 19 Comments
I've just returned from two weeks in Melbourne visiting m'Lady – a bonus visit for the year, thanks to knuckling down and doing 'the budget' with Apollo, which lead to the pleasing discovery that another flight across the ditch was affordable.
As usual, a lot of time was spent indoors, in bed, having incredibly hot sex and kink play. But this visit I also hired a car for a few days, so we took a day trip down to Wilson's Promontory (aka 'the prom'), the southernmost tip of the Australian mainland. I mean, why not? Neither of us had been there before.
I have a lot of photos from that day, including a very blurry one of a wombat, but we took the most at a place called Squeaky Beach – very well named, as the sand actually squeaks under your feet! While m'Lady took most of the photographs – well, the ones of me; I took a lot of scenery shots – I did grab a few selfies while ey was scouting out good areas for us to photograph in.
I was rather pleased that this one came out. Can you tell what I'm squeezed between?
(You can see the colour version, sun-blushed cheeks and all, on the click-through.)
It was a long day, with a lot of driving – but it was a blast!
**
I'm missing m'Lady so hard, and I've only been home 24 hours…
ETA:This picture was selected as top pic in the Sinful Sunday Weekly Roundup.
Posted on | November 25, 2014 | 1 Comment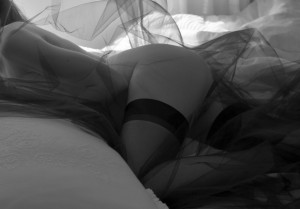 Photo courtesy of Cheeky Minx
The only place where the smartest and hottest sex bloggers are featured under one roof every month. Whether you're looking for sex journalism, erotic writing, relationship advice or kinky discussions it'll be here at Elust. Want to be included in Elust #65? Start with the rules, come back December1st to submit something and subscribe to the RSS feed for updates!
On a special note I want to mention that the judges voting on Elust is often very close, this month more than most. You all do such fine work that it is very hard for us to come up with the final results.
This Month's Top Three Posts
Ownership: On Sexuality & Feminine Relations
Tool Time
Seven – A Fairytale of Sorts
Featured Post (Molly's Picks)
The Love Letter of O
To My Single Submissive Friends – Be Brave
Readers Choice from Sexbytes
Posted on | November 16, 2014 | 16 Comments
The last time I posted some of my 'derp' photos the response was unexpectedly positive – so I promised I'd do it again. Finally, here are some more of my not-so-good pictures, complete with closed eyes, stupid expressions, and strange poses:
Starting with both a stupid expression and a strange pose, this photo was taken back during my aquarium trip, where I was photographed by Delilah's husband. The shark is a recommended photo opportunity, but I obviously did not make the most of it!
A question that doesn't really need an answer: where better to do the chicken dance than in a former chicken coop? Pretty much all the other photographs Kiana took for me in there were fantastic. but this was a definite exception. Oh dear!
Sometimes pictures where I'm sticking my tongue out are cute, or sassy. But Hylas was photographing me with the shipping container, I simply managed to look silly instead.
The waterfall Apollo and I visited up in the Hokianga was a gorgeous place. It was rather sunny though – and that led to more than a few eyes-closed shots! A shame, as this photograph is otherwise one I really like.
And, finally, during the Easter Kinky Camp Hylas and I took a lot of photos that came out really well. A shame that neither this pose nor my expression worked for this one in the camp kitchen, though!
**
I still have more photos in my 'derp' folder. I think I'll be doing this again – but not too often!
Posted on | November 9, 2014 | 15 Comments
When m'Lady and I were having lunch in Williamstown, we could see the marina nearby and decided we'd need to check it out (after taking photos with cannons and on the embankment). Also, what was that big ship?
It turns out that it's the HMAS Castlemaine, which is now a maritime museum. It was closed when we wandered up. But that pier… definitely a photo opportunity.
Why yes, I am having a lovely time. What, all those people at the other end of the pier? Nah, they won't notice.
Or maybe they will, if they have binoculars. In which case I hope they enjoyed the view of my breasts, along with all the other pretties

**
If anyone wants to use images from this post for Exhibit A's Sinful Stories competition, you're most welcome to (just remember to credit back!)

Posted on | October 29, 2014 | 11 Comments
[content note: blood – but not a whole lot, and behind a read-more]
I've written about various 'first times' I've experienced: my first PiV experience; my first kiss; my first time kissing a woman; my first outdoor sex disaster; my first troll. And there's been play parties and fisting and overseas visits and exhibitionism and plenty of other things I could write about in the first category … but today I'm going to share my first scarification (will there be another? Maybe sometime).
When preparing to go to the Easter Kinky Camp earlier this year, I looked over all the workshops that were going to be held. Some caught my attention, and some didn't – handily, when there were two at once, there was never more than one I wanted to be at. On the second day there was a blood-play workshop – one I definitely wanted to go to – and that afternoon was a needle workshop (that was a whole lotta fun) and then a scarification workshop. The latter I had no interest in at all, much like the branding workshop of the day before. Not my cup of tea, or so I thought.
The blood play demonstration, that second morning? Watching that was hella hot. *fans self* When talking afterwards with Sadistic Panda and his partner The Negotiator, the presenters/scalpel wielders, I found they were also doing the scarification workshop, which they highly recommended I attend. There'd be more blood, so I was in! (Scarification? It turns out that it's not really at all like branding when it comes to the creation of. So that was something I didn't know before.)
Well, I had a great time at the scarification workshop, seeing how they were made. I learned a whole lot about how they're done, how to be hygienic, and how to keep a scarification so it doesn't fade away. And, of course, I got to see them being done by Panda (you can see a video of him self-scarifying here –  he's very good!).
But I was not expecting, at the play party that evening, for him to ask if I wanted to get one myself! By then I'd seen him do four – and he does them professionally – so I thought about it for a minute (recognising that I'd been mulling over what I'd get if I ever got one ever since I saw the workshop) and came back with a YES!
So. This is my first scarification. It's on my right upper thigh, with a design I chose: that of the polyamory heart/eternity symbol. I wear an earring of the same design permanently, so Panda was able to create a drawing based off it and transfer it to contact paper once we were satisfied with the look.
The contact paper was then applied to my (alcohol wiped) skin, and we checked it lying down and standing up. Nope – that didn't work. We reapplied it with me standing up, and then it looked the way I wanted.
Then it was time for the cutting …
« go back
—
keep looking »