Posted on | April 28, 2013 | 17 Comments
Okay, so I have a serious phobia about dinosaurs (and I do mean serious, and I do mean phobia), but I got incredibly excited when I saw that there was a reptile park near where Apollo and I were staying for our sexaversary. Because while dinosaurs may be lizards, lizards these days don't mean dinosaurs. Thankfully!
So on our first full day up on the Matakana Coast, we beetled around and found the park, paid our moneys, and had a wonderful time trying to spot at all the amazing exhibits. Geckos! Skinks! Chameleons! Turtles and tortoises and bearded dragons! A Galapagos Tortoise named Willy! Monkeys! (I have no idea what monkeys were doing at a reptile park. But there they were.) An actual tuatara!
And, at the bottom of so many steps it wasn't funny – but it was totally worth it – the alligators. So of course I asked Apollo to take my picture with the scary Ms Alligator:
She totally wanted to eat me.
As we left the alligators and we climbed up about one hundred steps, I said something to Apollo how I was really enjoying our holiday together just as it was, which was why I didn't ask him to take a pic of me with the alligator with my tits out, even though I totally need a zoo photo for the Scavenger Hunt – because I know doing that really makes him uncomfortable (taking nekkid pics of me outdoors. The indoors ones he's just fine with). And we reached the top of those steps for me to take a breather and he was all, like, "Hey, you know what? Let's go back to the alligators and I'll take a pic of you with your boobs out."
Of course, then I was torn. Deal with those steps again? Was it worth it?
You know it was.
(There are click-throughs on both images, incidentally.)
It was worth it even though, just as we got back to the alligators, a family with kids came around the corner and we had to dawdle. It was worth it even though once they finally buggered off, shrieking, a second family showed up.
It was still worth it when it started to rain – which finally got the second family moving. Yes, my tits are out in the rain.
It was worth it despite having to go up those horrid steps a second time in the rain. And huddle by the monkeys in the rain. And giggle and make out under the trees in the rain.
It was totally awesome, and absolutely worth it. Because Apollo photographed me by the alligators, after I'd realised I was happy without it.
**
I have about fifty photos of geckos and chameleons and turtles and the Galapagos Tortoise named Willy … but you're all here for the tits, right?
Posted on | April 23, 2013 | No Comments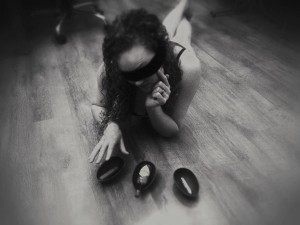 Photo courtesy of CreativNooky
Welcome to e[lust] - The only place where the smartest and hottest sex bloggers are featured under one roof every month. Whether you're looking for sex journalism, erotic writing, relationship advice or kinky discussions it'll be here at e[lust]. Want to be included in e[lust] #46? Start with the newly updated rules, come back May 1st to submit something and subscribe to the RSS feed for updates!
~ This Week's Top Three Posts ~
Bringing Toxic Sex Toy Facts Out of the Attic
How Do I Get My Wife to Dominate Me?
~ Featured Posts (Molly's Picks) ~
Continue reading "e[lust] #45" »
Posted on | April 21, 2013 | 26 Comments
Today is a very, very special day. Today is 10 years, to the day, since Apollo and I mutually seduced each other after just a few days of convention flirtation – and that seduction, while never intended to be more than a little fun, turned out to be the start of a very satisfying and marvellous relationship indeed! To celebrate our sexaversary we are whisking ourselves away for three rampant nights in a saucy cottage, because why not?
In an attempt to show a single photograph just how happy I am to be with my beloved, my husband, my partner, I share with you a random picture he took late last year. It is completely candid, and it sums up much of our relationship and our life:
What do you see? There's just a small portion of our many books behind me (the bookcases there are three of ten in total). There's our two cats, Mama Bear and Moss. There's tea (mmm, tea!). There's the book I was reading on my kindle, resting just below my cleavage. My studies on the coffee table. And my smile, as I look over at the person I am so blessed to have in my life.
Apollo is my rock, my safety, my delight, my pleasure. He's been with me through orgies and sleep-ins and grief and adventures. We have quiet nights in watching television and holding hands, times where we're each happily doing our own things, and conversations where we share it all. We fit together, and we are our own persons.
Ten years have gone very swiftly. And I wouldn't trade a single day.
**
Here's to the next ten!
Posted on | April 20, 2013 | No Comments
My regular roundup of interesting reads, found from all over the place.
Unspeakable: "Did your earliest sexual feelings take you by surprise long after you had reached puberty, had your first drink, learned to drive, developed crushes on a few other people, and voted for the first time? I thought not. The years between twelve or thirteen, when physical transformations change a child into a youth who looks more-or-less adult, and eighteen, when one's adult status is recognized by the rest of the world, are full of new experiences." (Jean Roberta / ERWA)
Media's faceless fatties fuel society's growing sizeism: "Most news stories about fatness are almost always accompanied by the picture of a headless fatty – a fat person without a head. And not just any fat person without a head, but a really, really, really fat person without a head. This really fat person is used as a stand-in for all fat people, even though really fat people are not as common as the use of their photos in the media would lead us to believe." (Cat Pause / The Conversation)
Poly Means Many: Dealing with bad things and kittens: "Often the best response is to name these feelings, but avoid the temptation to dissect them straightaway. My "bad" feelings are like frightened animals, and they need to be coaxed out slowly. The focus should be on building a safe space where they can be heard." (The Boi Wonders)
On telling everyone: "I'm a fan of honesty, but you have to be honest about everything. Don't tell people that so-and-so was an appalling shag without explaining what it was about him that made you want to fuck him in the first place. Don't tell people some 'slag' was 'gagging' for your cock and miss out the crucial detail that you asked her to suck it. At the very least, it should be possible for the person you're telling to understand that the sex was something you did willingly, something you expected to enjoy." (Girl on the Net)
Why I Hate The Word "Sex-Positive": "There are lots of things I'm positive about! I'm consent-positive! I'm autonomy-positive! I'm people-being-happy-positive! But I'm not really sex-positive. I'm more sex-neutral, really. If people want to have sex, then they should have sex; if people don't want to have sex, then they shouldn't have sex. As long as everyone involved is happy, I don't really feel entitled to have an opinion about whether other people have kinky lesbian orgies or hold each other's sleeves because they're not yet emotionally ready to hold hands." (Ozy Frantz)
Posted on | April 17, 2013 | 10 Comments
Which me will you find when we play together?

Will I be the wild beast, full of claws and teeth and fire – ready to rend and bruise and mark in ways that leave us both admiring our battlescars for weeks?
Will I be open and willing for everything you do with me, wide-eyed and begging for more, please?
Will I be silly, playing with words and blowing raspberries on your belly? Not quite a brat, but neither a respectful cipher either?
Who will you find? Perhaps none of these mes. More likely all of them – for they are all facets of the complete me, and that's who you get when we come together in play. Whether offering up my arse to be flogged or wielding it myself; in a cage or tormenting a pet encased in rubber, I will always express myself.
Hylas took these great photos for Wrath as part of the Seven Deadly Sins series – but it was hard to be wrathful all the time!
Posted on | April 14, 2013 | 21 Comments
If you're going to get naughty photos by a gate, where better than at great big school gates, shortly after attending a great big Pride Parade with Hylas (especially when you're still a tad tiddly)? Especially when those gates look out over rather a busy road?
We'd parked at Auckland Girls' Grammar, and stopping to rest my feet partway down the hill – those new shoes were rubbing badly by then – I of course had a naughty idea

You'd never guess I was thinking naughty thoughts, would you?
This is much more fun than actually attending school, I have to say! (The click-through definitely agrees.)
Oh but wait – I've gotta get a picture with the great big lion! Is anyone driving past?
You can't go wrong with a lion and tits. At least that's what I think.

**
I got photos in the grounds, too. Can you guess what Scavenger Hunt location I knocked off there?
ETA: Selected as top pic in the Sinful Sunday Weekly Roundup.
Posted on | April 12, 2013 | 7 Comments
Because I'm a curious person, I get to wondering about how sexual the previous generations of my family were.
(This isn't as weird as it sounds. My parents are dead. All grandparents bar one are dead. And the greats? Long gone.)
Obviously they were sexual enough to reproduce, otherwise I wouldn't be here. That goes for the ancestors of most everyone on the planet. But were they happy? Did they smile, or 'think of England'? Did they have relations because it was part of marriage and  expected of them, or necessary to survive, or did they take pleasure – and give pleasure – and feel joy in coming together?
There's a lot of awesome vintage porn and erotica out there, so some folks were having a blast! But what about mine?
Did my mother masturbate? Chances are good – she tried, unsuccessfully, to help me purchase a vibrator when I was in my late teens. That said, she really had no idea where to go, and was looking in pharmacies.
Did my father masturbate? Chances are also good – every year he purchased the January Playboy (or was it the December one?) that had the best of the previous year. He hid them in the back of his wardrobe, but in a box on the floor. Not the safest with curious teens! His second wife probably threw them away, which is a shame, as I never found them after he died. He also had a soft spot for the rude cartoons that appears in them, and had a pile of cheap paperbacks which collected them. I managed to snag those before they were lost, and still love reading them.
Did they find pleasure together? I fear that they did not. I hope that I am wrong (but a few thing my mother said in the months before she died, once married for a second time? I think she struck out in both marriages). I mean really, sleeping naked – something I definitely inherited – and on a waterbed – something I didn't – has to mean something, right?
I know even less about my grandparents. I want to think of them (as I want to think of everyone) as sexual people. It's just hard to reconcile with the teachers, the preachers, the seniors that I looked up to as I grew up. Still, age can be irrelevant to sex and pleasure. My grandmother had a good look through the recent catalogue of sex toys and pleasure products I had sitting on the coffee table a few visits back…
I'm set to wondering because today is Father's Day here in New Zealand. My dad is fourteen years gone next week, and Father's Day was one of the very last times I saw him alive, as I visited him in the hospice. He looked like a saint – gaunt and drawn and very thin – and was definitely not far from dying.
Later today I'm going to pick up my terminally ill brother – who I know all too well has had no sex drive, or life, at all for a number of years now (poor bastard) - from the same hospice. His daughter isn't coming down to see him today (although I know she wants to).  So we're going to a movie together instead, and spending some quality time.
It's not orgasmic pleasure. But it's important for me, and him, and family. I just hope that's not what my ancestors settled for.
Originally posted in September 2010.
Posted on | April 8, 2013 | No Comments
My regular roundup of interesting reads, found from all over the place.
Trans bodies + Lentil Risotto with Butternut Squash and Rocket: "I know we have a long way to go but I would like to see a time where people can see bodies like ours and just see other people and I think it's essential for trans bodies to be seen in neutral, non-sexualised, situations. So here are our trans bodies." (Alexandra / Naked Vegan Cooking)
Realtouch USB pleasure device brings porn into the 4th dimension: "By this stage, the wife has become bored despite a range of facial expressions I'm not sure I've ever made before, and left the room. It strikes me, as I look down at the Realtouch device nuzzling my crotch like a baby goat sucking on a bottle, that I'm now effectively masturbating professionally." (Loz Blain / Gizmag)
Stoya on the Metaphysics of CockSucking: "Laughing together about something awkward and then moving on is a useful skill. It comes in very handy when, for instance, you're slightly congested from a weather change and gagging on someone's cock causes snot to shoot out of your nose. Or when you manage to gracefully shimmy out of your clothes and then trip over them because they're puddled around your feet. Or when you realize there are no condoms after everyone is completely naked and you run to the corner store in heels and a blanket. Or when one of your holes starts making weird noises, when a cat jumps on your head midcoitus, or someone thinks the bottle of Tiger Balm on your windowsill is lube. All of these things have happened to me at least once. Sex involves bodies, which are full of fluids, noises, and awkward moments. I started having way more fun with sex when I came to terms with this." (Stoya / Vice)
When Sex is Your Day Job: "Motel owner Mrs Joan Hartley told Karlaa she wasn't welcome back. When Karlaa asked why, Mrs Hartley said, "because we think you're a sex worker." Karlaa didn't deny it. On the contrary, she said: "I am a sex worker, but you can't discriminate against me. Sex work is legal in Queensland and, under the Anti-Discrimination Act, you are not allowed to discriminate on the basis of lawful sexual activity." … The clause was bought in, at least in part, to stop homophobic motel owners from turning away gay men who wanted a double room, but since prostitution is legal in Queensland, the clause equally applies to sex workers. Mrs Hartley, who owns the hotel with her husband, Evan, said: "So sue me" – and so Karlaa took her case to the Queensland Civil and Administrative Tribunal – and, last August, she won on appeal, after first having her claim dismissed on a technicality." (Caroline Overington / Australian Women's Weekly)
Long Distance Love: "When love touches you, don't dismiss it because it's hard. It's all hard, but what in this life worth anything isn't? Embrace it. Find a way to make it work, and enjoy being in love. It's so fucking worth it." (Olivia M. Grey)
Posted on | April 7, 2013 | 33 Comments
I do love my tea – it's the best way to wake up; to keep hydrated; to relax. The standard at our house is Twinings Earl Grey, although there's 'gumboot' (Choysa black tea) for those who don't care that much, and I make sure to keep a rather large selection of herbal tea as well. I also have a special lidded cup from Xia just for drinking my loose-tea peppermint tea in…
Yes, I grew up with tea and was inducted early – coffee is a strange and occasional creature where I live. Instead, I keep tea with me at all times (there's some in my handbag in a pottle), and I definitely make sure I have a stash at various partner's houses! Handily, m'Lady in Melbourne is also a big tea drinker – not only does zie have Earl Grey there, but when I took over some Twinings NZ Earl Grey (Limited Edition) when I last visited, zie liked it as much as I do! (People either love or hate it, it seems. Apollo detests it, as does his mother, while his sister likes it as much as me. And Ailuros likes the NZ Breakfast Tea, whereas I find all variants of English Breakfast to taste like dishwater, that one included!)
Really, is there anything better than a cup of tea relax with, sitting naked on the back steps and enjoying the sunshine on your skin, after an afternoon of intense sub-space and sex and D/s and bodily fluids?
With thanks and adoration to Tethys for snapping these great pics on hir phone. It's grand to have a visual recording of the casual moments as well.
**
Unsurprisingly, I am sipping tea as I write this post…
Posted on | April 6, 2013 | 3 Comments
For a long time I was uncomfortable with the term 'queer' – at least when it came to applying it to myself. Despite knowing that many people regard it as an umbrella term for those of diverse sexual orientations and gender identities, it didn't feel like it was a label that was right for me.
I'm quite particular about my labels. I really like to have them, with the proviso that I have chosen them myself – and I write them on removable stickers, in pencil! So sure, I've plastered myself with pansexual and polyamorous – either of which is enough for various friends to tell me that the label suited me. But I needed to work it through for myself, to see if it was a term I could come to terms with, reconcile to my sense of identity.
I've let it percolate in the back of my brain; I've journaled privately about it; and I've had some great (and some challenging) discussions with friends. And I've finally come to the conclusion that yes, queer is an umbrella I will happily sit beneath – because I really am. I'm not queer in the way that many queers are, but that's the awesome thing about being queer: it's diverse. My queer isn't your queer isn't their queer. But it's all queer - if someone chooses that label, of course.
Anyhow! The wonderful Sam Orchard interviewed me recently for his Pride Series, and asked me 'Five Quick Questions for my Favourite Queers'. I was tickled to be a) a favourite queer of Sam's (yes, I blushed), and b) interviewed by him. It's always great to have an excuse to hang out

The five questions were:
What five words do you use to describe yourself?

What does pride mean to you?
What are you studying at the moment?
What do you think about the media portayals of polyamory?
What is your secret superhero power?
The interview was just under fifteen minutes, and we cover all manner of things: from the media's focus on polyamory as a 'couple experiment'; the challenges in finding a kink-friendly counsellor; fat-positivity and learning to love the body you live in - and a bunch more!
Pride Series – Ep. 2: Curvaceous Dee from Sam_Orchard on Vimeo.
(Don't miss us being extra-dorky over the end credits – and be sure to drop by Sam's blog or Vimeo page and leave a comment!)
« go back
—
keep looking »